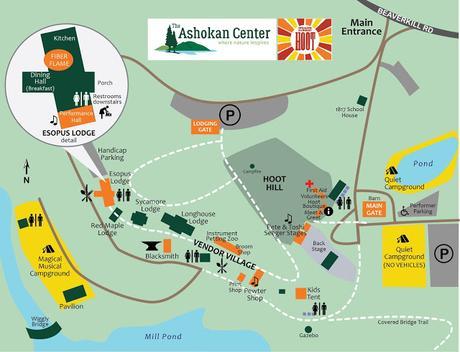 Come reconnect with your community and enjoy beautiful music! Aug 25–27, 2017
The 5th Annual Summer Hoot
Just one week away!

August 25, 26, and 27 at The Ashokan Center
Come reconnect with your community and enjoy beautiful music! Now five years running, the Hoot builds community and connects generations through a shared love for music and nature.
Attend for a few hours or the whole weekend! On-site lodging and camping can be reserved. Local food, beer, and wine will be available. Advanced weekend and day passes guarantee entry and parking!
Weekend pass: $75 • Day pass: $25–$45
VIP Pewter Posse pass: $200+
"Pay-what-you-want" tickets will be available at the gate while space allows.
Volunteers get free weekend passes!
Support your Hoot!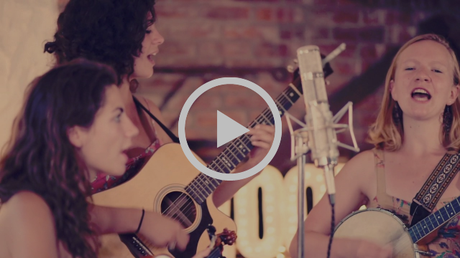 Come to the 2017 Summer Hoot!
Video by Beehive Productions.
The Mammals (featuring Mike + Ruthy) • Arm of the Sea Theater performing Dirt: The Secret Life of Soil • Geoff Muldaur • Jay Ungar & Molly Mason • The Sweetback Sisters • Rhett Miller • Phoebe Hunt & The Gatherers • Sarah Lee Guthrie with the Hoping Machine singers • Dan Bern • Heather Maloney • The Revelers • Hamell on Trial • The Down Hill Strugglers & John Cohen • Billy Wylder • Upstate Rubdown • Lily & Duncan • Mikhail Horowitz & Gilles Malkine • The Bunkhouse Boys • Joan Henry • Chas Justus • Caller Megan Downes
Plus a range of family-friendly activities:
Local craft and food vendors // Arts and crafts with FiberFlame // Morning gong baths with Love Waves // Hiking, canoeing, other nature activities // Blacksmithing // A kids' parade, other kids' activities // Intimate concerts in the Pewter Shop // 
Workshops: Band in a Box, Songs for Social Change, flatfooting, fiddle & banjo // 
Empowering environmental workshops led by Earth Guardians' Aidan Ferris // 
And late-night revelry: jam sessions, sing-a-longs, & a square dance!
The Summer Hoot is excited to partner with Whova, an event app! Whova allows you to see the whole weekend schedule, build your own itinerary based on the performances, activities, and workshops you don't want to miss, get notifications of last-minute changes, connect with other Hootsters, and more.
Find Whova on the App Store
Find Whova on Google Play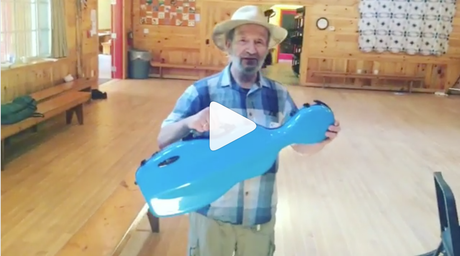 Jay & Ruthy show off the raffle prizes!
A $5 raffle ticket could win you your choice of a beautiful violin, bow, and case from sponsor SHAR Music, or free enrollment in an Ashokan Music & Dance Camp in 2018! You don't need to be at the Hoot to win (though we hope you will be)—winner will be chosen on Monday, August 28 at notified via email or phone.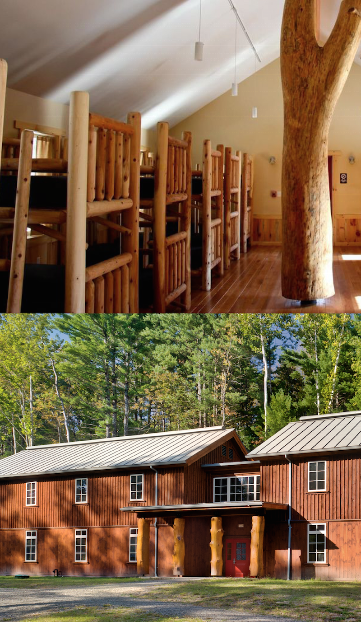 Bunks are available in the Women's, Men's, and Co-Ed Longhouse rooms for $50 per person. Bed with pillow provided—BYO bedding, towel, and toiletries.Camping passes are available for both "quiet" and "music-all-night" areas for $50 per vehicle. No RV hookups are available. Private fires and dogs are prohibited.All lodging prices are for two nights (Friday & Saturday) and include breakfast both mornings (Saturday & Sunday).
Ashokan Music & Dance Camps 
Alumni
And partners: Whova, Radio Woodstock 100.1, 98.1 WKZE, Eberhardt Smith, Evolving Media Network, Woodstock Music Shop, Telefunken Elektroakustik, D'Addario Strings, Beehive Productions, and Hudson Valley Farmhouse Cider.
Copyright © 2017 The Ashokan Center, All rights reserved.
You're receiving this e-mail because you're a friend of The Ashokan Center.
Our mailing address is:
The Ashokan Center
477 Beaverkill Road
Olivebridge

, 

New York

 

12477