For budget travelers with a sense of adventure and a handy streak, one way to see the world on a shoestring budget is to buy a used sailboat. Used boats can often be had for extremely cheap from owners who are tired of maintaining them, who are getting divorced, who have inherited the boat or who are otherwise motivated to sell. With a little common sense and an eye for the deal-breaker problems used boats can have, you, too, could soon be sailing around the world on a used sailboat of your very own.
Look for Cheap or Free Boats
Most people assume that it's worth shelling out the money for a brand-new boat on the theory that such a boat will be more reliable than a used boat. While this may or may not be true – some experienced sailors have argued that new boats are just as likely as old boats to have problems – there's no reason you need to cough up tens or hundreds of thousands of dollars for a sailboat when you can get a perfectly good boat for a few thousand dollars or, in some cases, much less.
The thing about boats is that they're expensive to keep and maintain. Boat owners have to pay yard fees, insurance bills, maintenance costs and lots of other bills that can become a huge burden to the owner – especially when they find they aren't getting the same use and enjoyment they once did. There are all kinds of reasons why an owner might sell a boat for cheap or free. Perhaps they're moving, or they've become ill, or they started fixing up the boat but now can't finish, or they've finished their big sailing trip and now want to settle down. Maybe they're getting divorced and want to pull one over on the ex by selling a sailboat for much less than it's worth. Often, owners overprice their boats when it's time to sell, and simply need to be talked down by a skilled negotiator.
You may be able to get a good price on a used sailboat by contacting your local marina to ask about when they'll be auctioning off boats abandoned by owners who no longer want to pay docking fees. Check out sailboat classified listings or auction sites like eBay, where you can find all kinds of cheap boats for sale.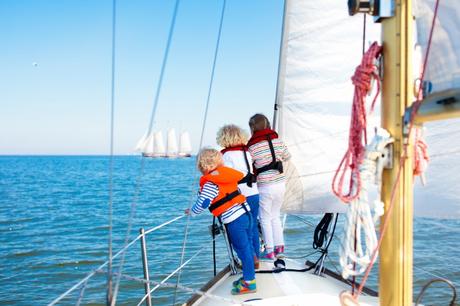 Know What You're Getting When You Take on a Used Boat
It doesn't matter how little you pay for your used boat if it has problems that will cost tens of thousands to fix. If you're looking for a bargain-basement boat, chances are you're not going to be using a buyer's broker, so you won't have that extra security of knowing the boat is reliable enough to warrant a broker's attention. If you know your way around a sailboat and know what problems to look for, that's one thing; but if you're not handy with boats or haven't owned a boat before, it's a good idea to hire a boat surveyor to look the boat over for problems before you take it on. That way, you won't end up repairing surprise engine problems, leaks, spongy decks, rudder corrosion or other issues that could quickly add up.
Use a surveyor who is accredited by the National Association of Marine Surveyors (NAMS) or the Society of Accredited Marine Surveyors (SAMS). Ask the surveyor for references before you hire them. If you know someone who highly recommends an unaccredited surveyor, don't write that professional off just because they aren't accredited – accreditation isn't required, and a popular non-accredited surveyor with a good reputation may be just as helpful as an accredited surveyor. A survey will cost $15 to $20 per foot of length overall (LOA).
Of course, you don't want to pay that kind of money to survey every boat you look at, so take the time to learn what to look for in a used boat, or bring someone with you who knows boats, if you can. Check the sails for mildew, worn stitching, holes or signs of repair. Check canvas for corrosion, rot or rust. Make sure the gear and rigging is in good working order. Examine the laminate for blisters and the hull for cracks, scratches, holes or other damage. Be suspicious of weird smells, damage to the bulkhead or stringers or corrosion on the rudder or keel. Check the engine compartment and wiring; does it look like it's been well-maintained, or are the wires a jumbled mess?
Buying a sailboat doesn't have to cost your whole life savings. You can buy a cheap, used sailboat and with a little elbow grease, you'll soon be living the good life and seeing the world aboard your very own, much-loved vessel.