Realtors Can Absolutely Benefit From Twitter Use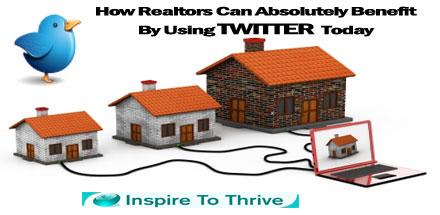 Every day I run into realtors who do not understand the value of Twitter or understand Twitter period. Most realtors act as a small business and some actually are their own small business. Small businesses can benefit greatly using Twitter. Realtors are just like any small business. They work 24/7, 7 days per week. Real Estate agents do not generate money when they are not working. Realtors can absolutely benefit from Twitter today but it will take time. It will not happen overnight.
Start With A Good Twitter Profile
Your Twitter profile should showcase who you are. It should include your own picture, your area of experience and your location. It's all about location, location, location in real estate. If you need the sizes for your images check out this post I did a while back on creating your Twitter profile. Take your time doing this! It is an important step for others to follow you. A great Twitter profile will make the difference for you and realtors can absolutely benefit from Twitter using a great profile. I liked this one below because of his photos and his name right in the bio. He also uses hashtags for his keywords in the bio and has a link to his website. A great way to showcase who you are.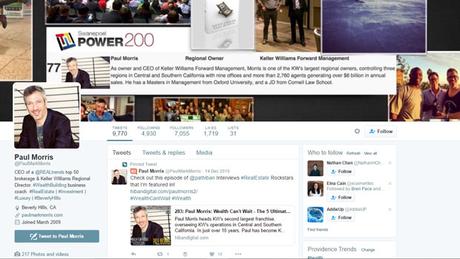 Find Real Estate Peeps to Follow
Follow others in your industry. If you need help check out my growing Twitter List of Real Estate peeps. You can also do a search on Twitter for mortgage brokers, local folks in your area and other related topics to your niche business. I would recommend to start following a couple of hundred of folks. Slowly add to it over time and follow back those that may follow you first if their bio is of interest to you. If you like to be really organized develop some Twitter lists. You can put people into groups by location area, by interest, etc.
Become An Authority in Real Estate Topics
The best way to showcase yourself as an authority in real estate is to share what you know. Many people on Twitter are searching for news and answers to questions they have. Here are some good examples of what other real estate agents are doing on Twitter:
Top 10 Red Flags To Look For When Buying A #Home | #realestate https://t.co/JJRfphxWu6 via @KyleHiscockRE pic.twitter.com/4xv0K3QAbP

- Hiscock Sold Team (@HiscockSoldTeam) May 23, 2016
How to Deal With a Low Ball Offer On My Home #realestate https://t.co/oOdBjgkzlB via @massrealty pic.twitter.com/EoLoaE6feK

- Wendy Weir (@WWeirRelocation) May 22, 2016
Check out the latest news on #winnipeg real estate blog... https://t.co/x3XtRvOq89

- Bo Kauffmann (@bokauffmann) May 24, 2016
Share Tips For Home Sellers
Home sellers are looking for ways to get their home ready to put on the market. They may not call a realtor right away for fear of what they are doing or NOT doing. Be the one they tweet with a question.
Ten #Funny Ways To Know Your Home Is Overpriced #realestate https://t.co/pt2KhtU4Hi via @massrealty pic.twitter.com/KTr4WGjn6H

- Bill Gassett (@massrealty) May 23, 2016
Share Tips for Home Buyers
People buying a home may not trust an agent YET. They want to just look at houses. They may not know yet what they can actually afford. They don't know who to ask first. You can be that first person they make a connection with.
20 Things to Do Before Buying a House #realestate https://t.co/NX00tXKBYb via @massrealty pic.twitter.com/OMWZmmq4sc

- Bill Gassett (@massrealty) May 22, 2016
Connect with Mortgage Brokers, Real Estate Attorneys, etc.
Connect with others in the industry is an important tidbit. This can only help grow your real estate business. It is easier to meet new people on Twitter than Facebook. Facebook is more about who you already know. Twitter is more about getting to know other people. Even in the small state of Rhode Island there are people I still have yet to meet.
What would bank mortgage rates be like without Mortgage Brokers? #yqr #Saskatchewan https://t.co/1Gd8mWsXXf

- Kim Seifert, AMP (@KLSeifert) May 12, 2016
The Dos and Don'ts of Buying a New Home (use a Mortgage Broker made the list!)... https://t.co/F6VS6wZf5Q

- Jamie Moi (@JamieMoi) May 9, 2016
Engage With Others On Twitter
This is the where realtors can absolutely benefit from Twitter! It's like going to a local networking event except you are online. This is the key to success on Twitter - engage! Listen and respond to others. You may be suprised to hear folks talking about wanting to sell their home or looking for a new one. I once found a person looking for a home in my town. She began asking questions about different neighborhoods in the town.
What NOT To Do On Twitter
Do NOT only post your listings! I must say it again. Do NOT only post your listings. No one wants their Twitter stream flooded with only listings. Boring! I see too many real estate agents doing exactly this on Twitter and many right from their Facebook account. That is the lazy way and it will not grow your Twitter following. It will not provide you with any engagement. Of course you may include some tweets about your listing just do it cleverly and stick to the 80/20 rule. Share 80% of others content and 20% of your own. That's the golden rule. That is how realtors can absolutely benefit from Twitter.
Do NOT protect your tweets. If you protect them no one will see them unless you allow them one by one. Not only is it time consuming but senseless if you are in business. You are on Twitter to be seen and heard. People will want to connect with you and not want to wait for an approval process. Can you blame them?
Now this tweet below is cool because it has a video. I would only recommend this in your 20% of shares. Doing only this will NOT work on Twitter.
Check out my Newest Listing... Click here to view the full tour of this beautiful home off of Mary Lane in South... https://t.co/n1vJLe8lly

- Robert Colello (@Robert_Colello) May 14, 2016
The next tweet is quite boring. The info comes directly from Circlepix - an automated service.
Check out my #listing in #Ellsworth #ME https://t.co/SocZB8FUnN #realestate #realtor pic.twitter.com/CyRkAs3eLU

- Janet Bosworth (@janetbosworth2) May 14, 2016

Can you see the difference in the style of the 2 tweets above? I'm sure you do and remember to be creative as you can when sharing property listings on Twitter. It can set you apart from the others.
Top Reasons Why Realtors Can Absolutely Benefit From Twitter?
Make New Connections.
Become An Authority.
Generate Leads.
Bring people back to your website or blog.
Promote listings or yourself 20% of the time.
Need More Tips Getting Started With Twitter?
Get My eBook, Tweeting Like It's Second Nature for FREE! Use code FG78P. Loaded with tips and tricks to get you started on Twitter today. Simple to follow.
If you are a real estate agent I'd love to hear from you in the comments below on how Twitter has helped you.
If you are not I'd still love to know what tips you could offer other realtors that are starting out using Twitter.
Image courtesy of Renjith Krishnan at FreeDigitalPhotos.net