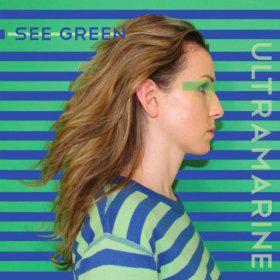 "Are you happy now? Are you happy now?" Well, if you aren't you will be after listening to
Ultramarine
,
See Green's
debut EP.
See Green
is actually the stage name for L.A's Courtenay Green and
Ultramarine
is her shamelessly sugar pop album.
The moment you hit play you know that it is going to be fun, pop and catchy. This made me a little hesitant about reviewing it, because pop music does get that repetitive, sounds- like- every- other- pop- song- on- the- planet sound but I am glad I stuck with the EP and listened to the whole thing because it doesn't feel like that at all. Yes, it is catchy, sounds like it should be played at a teenagers drunken party but See Green is really fresh and doesn't fall into the monotonous stack of pop that is discarded two weeks later. I think it is the best pop I heave heard in quite a while.
Opening with "Are You Happy" it sets the bar pretty low for the rest of the EP. It is the weakest of the four songs but is full of jollity and catchy lyrics and music. Not a bad song, just the weakest link.
"The Neighborhood" is easily twice as good as "Are You Happy," it is more synthesized, has stronger lyrics and is just cooler.
"You build your fortresses
Your walls are creaking
Did you close the window shades?
Are your children sleeping?
You think its over
But its not going to go away"
It seems she has decided to put the weakest song first so that every song afterwards is twice as good as the last.
"Closer" is my favorite on
Ultramarine
because it fits into my expectations better and is a little heavier on the music side, almost stretching itself into pop rock. It starts with guitar and then moves onto synthesized tunes and a good drum beat. The lyrics are more punchy with more attitude. In short, what you want from decent pop music.
"You walk in and walk out
And everything you pick up
You put down
Never made a wrong move
Until now
Isn't that unusual
So your talking, okay
You think you are in control no way"
"I Meant It" is just as good as "Closer" musically. The punchy melody and boppity beat is infectious.
"When I said I would
I meant it
When I had the time
I spent it
You can make yourself
Believe it
But you will never know
Until you see it"
Ultramarine
is strong vocally, in tune, in time with the music and it just fits.
See Green
is certainly something to watch, I can see this getting signed because of its great pop sounds but fresh take on the genre. It is also a cool artist/EP name to say together because of the rhyming scheme. Give it a listen and tell me what you think.
--Koala
Buy here: 
Ultramarine