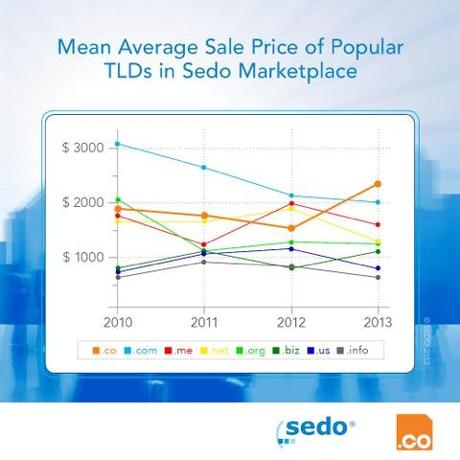 Sedo, today unveiled a report, detailing the growth and success of the .CO domain extension three years after its launch.
There are currently over 1.5 million .CO domain names registered by people in over 200 countries. B
CO has achieved strong brand awareness, widespread domain development and impressive performance on the secondary market.
Data revealed in the .CO Market Report includes the following highlights:
  The total value of .CO sales at Sedo since July 2010 is $2.6 million USD.
  The mean average sales price for .CO domain names on Sedo's marketplace is high, reaching $2,486 USD in 2013, up 37 percent since the TLD was introduced.
  The YTD average sales price of a .CO domain surpasses the most well-established legacy TLDs, including .COM, .NET and .ORG.
  The YTD median sales price of a .CO domain is $570 USD, up 14 percent since 2010, and higher than all the reported TLDs except for .COM.
Here are some more interesting stats from the report
.COstartedoutstrongin2010, withameanaveragesales price of$1,819USDduring launch year.
In2011 and 2012, the averagesales price ofCOdomainsremainedfairlyconsistent inthe $1,700-$1,800USDrange
Asofthe end ofJuneof 2013, the meanaveragesales price ofCOdomainsinthe Sedo marketplacewas$2,486USD.…