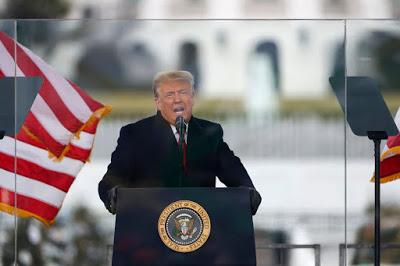 President Donald J. Trump speaking at his "Stop the Steal" rally in Washington D.C., January 6, 2021.

On January 6, 2021, Donald J. Trump, the sitting President of the United States, incited a riot that resulted in the storming of the U.S. Capital, and the successful breaching of its defenses by domestic terrorists, led by a "
huge contingent of Proud Boys
." This occurred as the Congress, with Vice-President Pence presiding, was counting the 2020 Electoral College votes.
This count was to be a ceremonial function celebrating America's democratic institution of free and fair elections, as Congress has no power to change the vote of the electors chosen by the 50 states. Joe Biden had amassed
306 electoral votes to Trump's 232
.
Trump
told a crowd of raucous supporters on the Ellipse
just south of the White House, "All of us here today do not want to see our election victory stolen by emboldened radical Democrats."
Trump went on to reiterate his evidence-free charges of fraud, made erroneous statements about how elections were run in swing states "by Democrats," and in a rambling aside bragged about his "history-making" achievements, berated the Media's corruption, asked where Hunter Biden was, berated Georgia Governor Brian Kemp for not overturning the Georgia result, as well as the U.S. Supreme Court, and commended Rudy Giuliani as a "real fighter."
Trump concluded by exhorting his followers, "We will never give up. We will never concede. It will never happen…" Pointing at the crowd with his black-gloved hand he said, "We're going to walk down to the Capitol. And I'll be with you…because you'll never take back our country with weakness, you have to show strength and you have to be strong."
And they did as the President asked them. They marched to the Capital, and stormed the Capital, and desecrated the Capital. Trump did not go with them. He was driven back to the White House where he watched what he had wrought on television.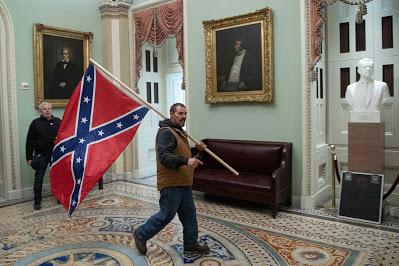 The U.S. Capital, January 6, 2021