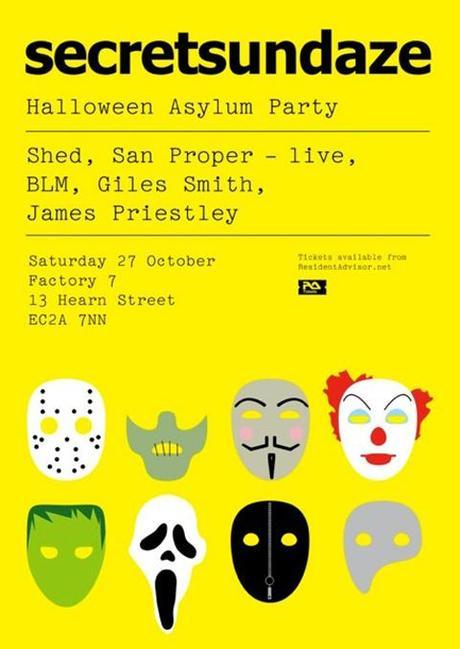 secretsundaze is hosting their second Halloween Asylum Party in the warehouse space of Factory 7 just off Curtain Road in Shoreditch.
Artists Shed, San Proper and BLM will be joined by secretsundaze founders and residents Giles Smith and James Priestly.
Shed (aka Head High / WK7 / EQD / Wax) is headlining. His performances as both a DJ and as a live act are hugely in demand but as Shed is not so keen on touring this a great chance to catch him and hear tracks from the recently released 'The Killer'.
San Proper will be strutting around the stage, singing and playing the guitar and with those low slung, funk fueled grooves that have attracted the likes of Villalobos to team up with him.
The third guest is BLM, a London born artist who although has his roots in house and techno also takes influence from more home grown UK sounds. BLM co-owns and runs deep house label Fear of Flying and techno offshoot Sudden Drop.
We have a pair of tickets to giveaway. To enter answer the following question in our Comments:
"What is the scariest film you have ever seen?".
secretsundaze Halloween Asylum Party
Saturday 27th October
9pm to 6am
Factory 7, 7 to 11 Hearn Street, EC2A 3LS
Buy tickets for £17.50 + bf here