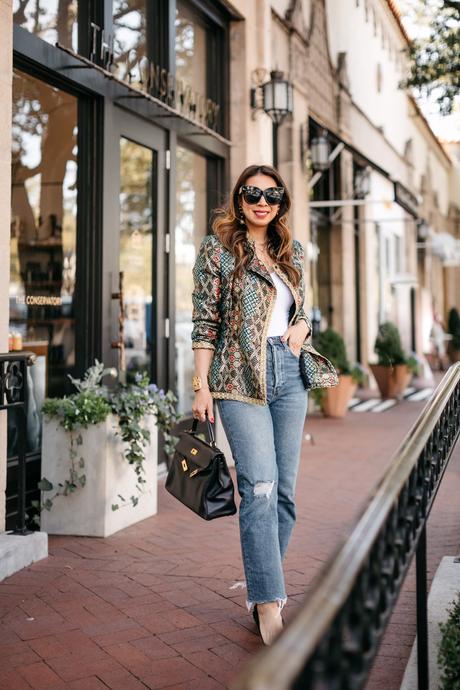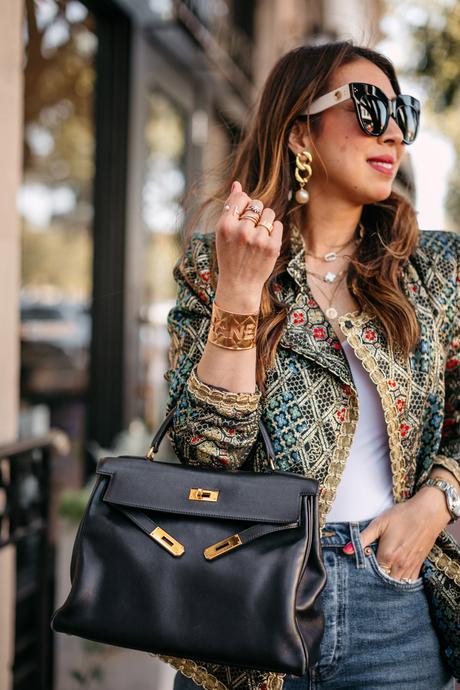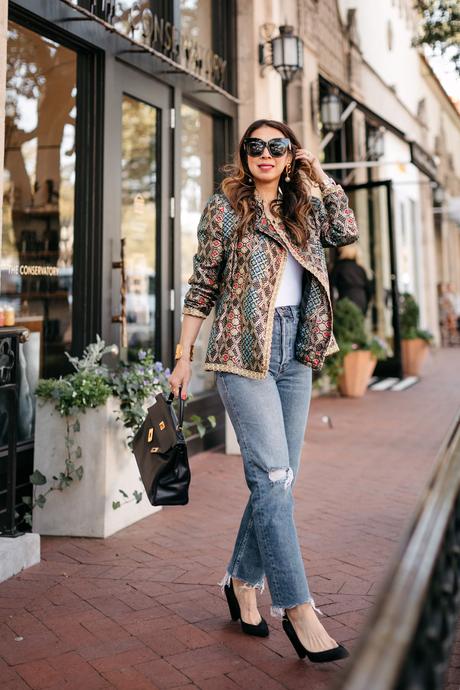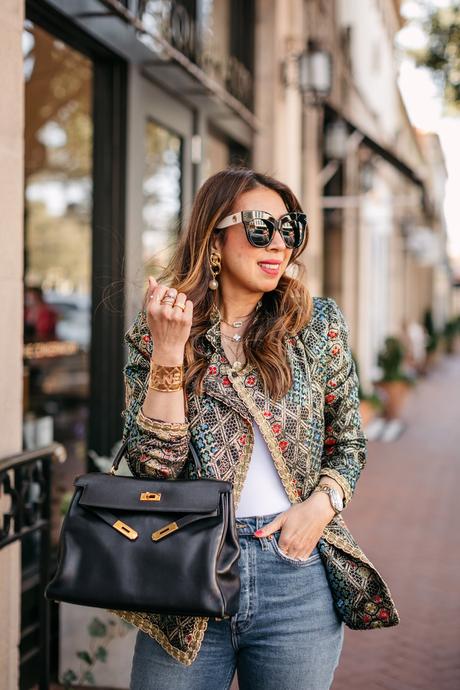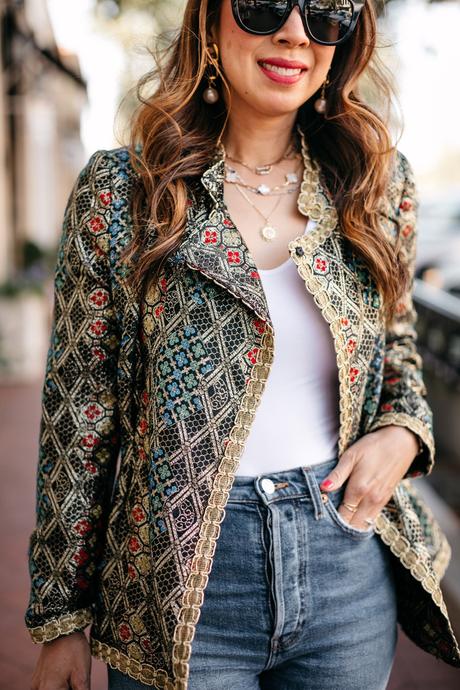 HOW TO STYLE VINTAGE OUTFITS
Hello GlamFam! Today we are talking about my favorite, VINTAGE OUTFITS! Some think vintage outfits are like dressing in a costume or a period piece. When worn well, no one will know it's vintage OR it will take your outfit to the next level! I have a lot of examples in my From Grandma with Love blog posts. In some of the vintage outfits, I tried to channel a certain era so my sunglasses or hair reflect that like in this post. In others, it just looks like a fabulous statement piece.

It's all about your preferences. Find that vintage piece that makes your heart beat a little faster, and get it! Here are some secrets to styling vintage like a pro...
PICK ONE HERO PIECE
Wearing vintage head to toe is where it can look like a costume! Pick ONE PIECE and make it your statement piece while the rest of the outfit plays it up. Here, my vintage Neiman Marcus embellished blazer is the hero piece. I wore it with basics, a white bodysuit, distressed denim, and black heels so that it could stand out. I've mentioned in this blog post that you can find vintage pieces at budget-friendly prices. This beautiful blazer was found at a resale shop for $15! Can you believe it?
If you have a suit and want to wear it as a set, then make sure all of your accessories/shoes are more modern as seen in this post and this post. Then Voila! It's amazing!
VINTAGE ACCESSORIES ARE ALWAYS A GOOD IDEA
Vintage accessories have to be my FAVORITE of all FAVORITES! They are that piece de resistance of any outfit, and there are so many gorgeous baubles out there for you to discover!! It's the perfect way to "try out" vintage if you're new to the game.
I am a huge fan of jewelry from the 80s and 90s when "more is more". My earrings and cuff are vintage Chanel found on Poshmark, and I found so much amazing vintage jewelry at estate sales prior to COVID. I'm also the lucky recipient of hand-me-downs from my MIL and her mother. Wearing these pieces adds uniqueness to any outfit.
Recently, I discovered Kimono Dragon on Instagram and ABSOLUTELY LOVE all of Lauren's amazing finds. She has such great taste, and I would love any of her edits in my closet especially this pearl necklace, these moon & stars earrings, and this lion belt! These are all my kind of vibe, but if estate jewelry is more your thing then research and add those to your accessory arsenal!
Unless you are shopping for designer vintage accessories, you can usually find vintage accessories at a better price than retail. Sometimes, you can still find designer vintage for excellent prices depending on where you shop! I've found those fabulous authentic Chanel earrings on Poshmark for $160. My bag is also vintage Hermes and purchased at a fraction of the price of the same current style of bag.
MAKE IT MODERN
When it comes to your hair and makeup, then make it clean and modern. If you are going for a total era look like the 70s, then go for bold with curtain bangs and bells! Something as easy as straightening your hair or wearing a bun or chignon like in this post or this post will completely change a look too. Otherwise, stick to your beautiful hair and makeup. Simple is always good.
THE STYLE Rx: Vintage outfits are a fun way to change up your wardrobe and be sustainable!
TIPS FOR SHOPPING VINTAGE
Don't get too worried about sizes. Vintage sizing is different than modern sizing.

For example, a vintage size 12 maybe equivalent to a 31″ bust, 25″ waist, and 33″ hip measurements.
This jacket is a size 10 but more reflective of current sizing, and I did get it altered to be smaller. I have vintage dresses that range in all sizes from 6-12.
You can always alter a piece for the perfect fit.

Carefully inspect the seams and for any stains or moth holes.
Consider the material.

I have some absolutely FABULOUS polyester pieces but can realize that I can wear them if it's going to be cooler since I sweat so much.
Additionally, wool is a great natural material but can be itchy/scratchy if not lined.

Realized that a highly curated store may cost a premium compared to somewhere like a Goodwill. Only you know your budget and your time!
Know how to clean/care for certain materials.

Some older pieces have a particular smell. Research how to clean that type of material. You can try dry cleaning, hand washing, or gentle wash and leaving in the sunlight to dry.
Certain materials like velvet and leather are best left to the dry cleaning professionals.
That wraps it up for my secrets to styling vintage outfits like a pro! I hope that it was helpful and you are ready to go out and conquer a vintage piece for your outfit! Let me know if you have any questions.
DO YOU HAVE A FAVORITE VINTAGE PIECE IN YOUR WARDROBE?!
Happy Thursday GlamFam! A lot has happened since last week. Franklin, our dog, hurt himself on Saturday by trying to jump up on a wall and then missing. He hit his abdomen very hard, fell down, and then couldn't stand up by himself. We went to the ER and they kept him overnight for pain control, to monitor his spine trauma, and for any internal bleeding. Needless to say, that was a stressful weekend. He is still recovering and doing better but experiencing a lot of side effects from his medications. He has been waking up 4-5x every night. Today, we are headed back to the vet for a pre-scheduled well visit, but it will be good to make sure we are heading in the right direction with him. Anyhow, I'm very sleep deprived as my daughter is also waking up at night. If anything doesn't make sense, then you know why! LOL!
Thank you so much for stopping by and supporting SOS!
CHECK OUT MY INSTAGRAM SHOP HERE TO SHOP ALL OF MY INSTAGRAM LOOKS!
// STAY CONNECTED //
stay glam, do good