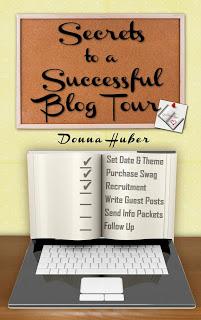 In
Secrets of a Successful Blog Tour
Donna Huber lays out exactly the steps authors should take to successfully engage with bloggers and promote their books. At about 60 pages the book is short enough to be read quickly but it packs a lot of information to reference again and again.
As a blogger, rather than an author, I found the book to be eye-opening as far as the preparations and work that go into creating a successful tour. I did not realize how far in advance planning needed to start and what steps needed to be taken before bloggers even start signing up to host an author.
Buy Secrets of a Successful Blog Tour 
on Amazon
Huber not only provides the information needed for organizing a tour (complete with tour checklist, instructions on creating tour graphics, and ideas for tour posts) but also gives insight into how to choose the right tour company to get the best tour package to meet your needs if an author chooses to go that route.
Secrets of a Successful Blog Tour
is a book that can be used by authors, bloggers, and publicists as it offers secrets that can be used by everyone involved in the blog tour.
And now Donna Huber offers:
Top 10 Things Bloggers Can Do to Promote Books
(that will also helps your blog)
1. Have a review policy and include contact information on your blog.
2. Write reviews - Try to include a couple of quotable snippets so that authors can easily use it on their social media, book covers, and descriptions.
3. Feature authors & books - host authors for guest posts, interviews, and book promos.
4. Be active on social media - sharing what you are reading on Twitter and Goodreads helps with word-of-mouth buzz.
5. Attend book signings and literary events in your town. No events locally? Talk with your library and book stores about helping to organize events.
6. Offer to write shelf-talkers based on your reviews for your local bookstore and library.
7. Sign up for tours and book blasts.
8. Participate in memes - linking up with other participants will increase the traffic to your blog and give extra exposure to book/author.
9. Create recommendation lists - grouping books together is a great way of getting readers that like one book on the list to read the other books on the list.
10. Take a break to read for fun! Don't lose your passion for books by getting burned out with blogging and reviewing.
About the Book:
Plan a successful blog tour while keeping your sanity.
From the publicist who introduced the world to
Fifty Shades of Grey
, Donna Huber is now revealing her secrets to successful blog tours. She shares tips and tricks learned through organizing over 30 tours, blasts, and promotional events for nearly 50 independently and traditionally published titles.
Secrets revealed in this quick read include:
Planning stage decisions
Different types of tours
Recruiting bloggers and keeping requests organized
Best practice communication tips
Tricks to making a great guest appearance
How to organize a fun (and legal) giveaway
Actions to take during the tour
Next steps once the tour is complete
Virtual tour and other promotional opportunities
When to hire a professional
In this easy to follow manual, Donna does not stop there. She spills even more of her blog tour secrets to help authors get the most out of their events by providing:
Tour checklist
Tour invite tips
Step-by-step guide to creating tour graphics
10 broad guest post topics
25 sample interview questions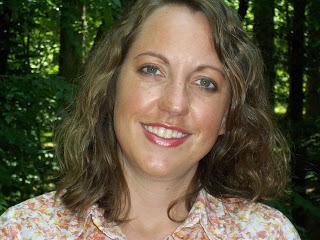 Donna Huber is an avid reader and natural encourager. She is the blogger behind Girl Who Reads where, in addition to book reviews and author appearances, she writes the popular blogging advice series: Tips on Thursday. She has worked as a freelance publicist since 2010 assisting publishers and authors with their marketing and publicity needs. Most notably, she was the publicist for The WriterCoffee Shop Publishing House edition of
Fifty Shades of Grey
and
Fifty Shades Darker
by E. L. James.
When she is not doling out blogging advice or promoting the next bestseller, she can be found spending time with family (particularly the four legged, furry members), rewatching Downton Abbey and Harry Potter, or trying to make a dent in her never ending to-be-read pile.
Connect with Donna on Twitter and Facebook
a Rafflecopter giveaway
Note:
All opinions presented in book and product reviews are my own. Opinions presented in posts authored by others reflect the view of the author only and not necessarily my view or opinion.