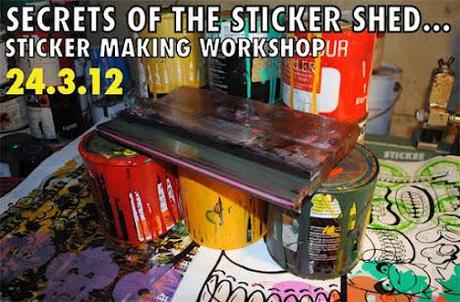 To kick off the new year, East London's High Roller Society is hosting their first-ever sticker making workshop, led by esteemed sticky-fingered extraordinaire, Stickee Rich, who celebrates 25 years of this hip handicraft. See what happens behind the closed doors of the 'Sticker Shed' with a step-by-step demo of the entire sticker making process, from creating the artwork, to making the screens, to contour-cutting a sticky masterpiece. Those attending will be encouraged to get their hands dirty with sqeegee lessons and a free-style sticker station. The Workshop begins promptly at 1.00pm with an introductory brief and demonstration. All are welcome to drop in at anytime throughout the afternoon.
Also in the Gallery: New Stickers Released by tenacious favourites Mighty Mo, Rowdy, Aida, Nylon, Sweet Toof, Tek33, and Stickee. Plus: An impromptu group exhibition of assorted treats from the streets to adhere your eyes. Get stuck in!
The Workshop will be Family-Friendly and Free, with a suggested donation of £2 per person. Materials and refreshments will be provided.
Info & RSVP:
[email protected]
Saturday 24 March 1.00-5.00 PM
*The Gallery will be open on Saturday and Sunday, 24th & 25th March from 12 Noon-6.00 PM High Roller Society - 10 Palmers Road - London E2