This post may contain affiliate links. Please read my disclosure.
Sinking your teeth into one of these healthy chocolate chip cookies is so satisfying and delicious. With only 100 calories per cookie, they are sweet, chewy, and the perfect dessert for all occasions!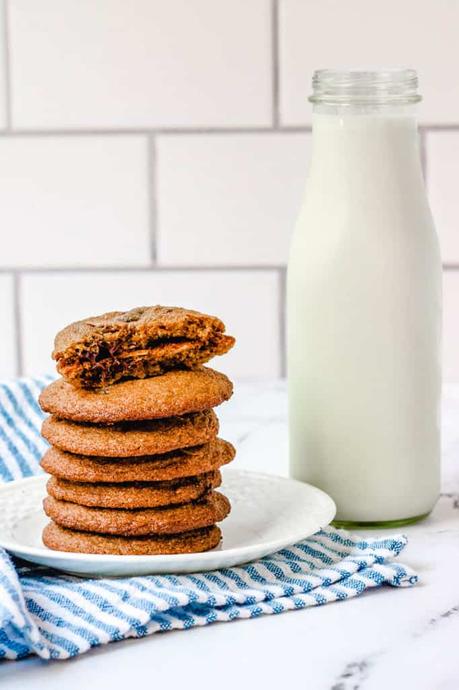 To me, there is nothing more amazing than biting into a freshly baked chocolate chip cookie. Pure food heaven every time!
It doesn't matter if you're making these cookies to keep all for yourself, or if you want a tasty treat to take to friends and family at your next big gathering. Everyone is going to enjoy the flavor and texture of these astounding healthy chocolate chip cookies.
Each batch of cookies makes around five dozen! So if you are feeding a large hungry crowd, these are exactly what you need to impress.
You will never guess that these chocolate chip cookies are healthy thanks to one simple ingredient and a few easy swaps! This healthy cookie recipe is prepared with lentil flour, whole wheat flour, lots of chocolate chips, and your favorite chopped nuts. What could be better than that?
Tools and Equipment You'll Need
Recipe Ingredients and Notes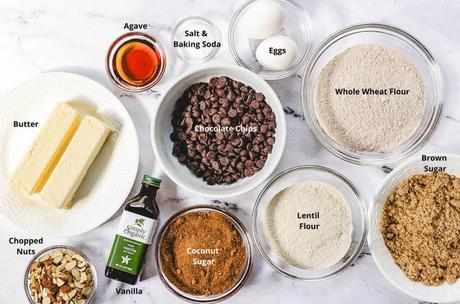 Flour: I used a combination of whole wheat flour and lentil flour to increase the fiber, protein and whole grains in this recipe!
Butter: I used 1 cup of butter in this recipe, which might sound like a lot, but this recipe makes 60 cookies! Which means, that there is only 15 calories of butter in each cookie.
Sugar: Coconut sugar + brown sugar give these cookies a nice sweetness
Eggs: You can also use flax eggs if you want to make these an egg free cookie
Chocolate Chips: I used dark chocolate chips, but you can use milk chocolate, a combination of milk + dark, or even butterscotch or peanut butter chips to change things up!
Agave: Can also use maple syrup or honey here
Chopped Nuts: Choose your favorite! I used walnuts + almonds.
Step by Step Instructions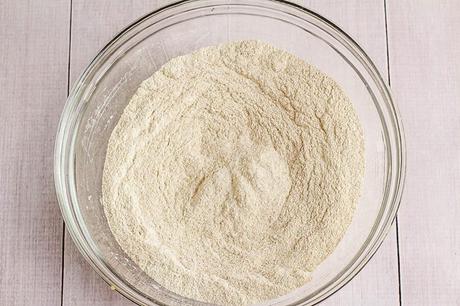 Step 1: Preheat oven to 350 degrees. Combine flours, salt, and baking soda in a small bowl.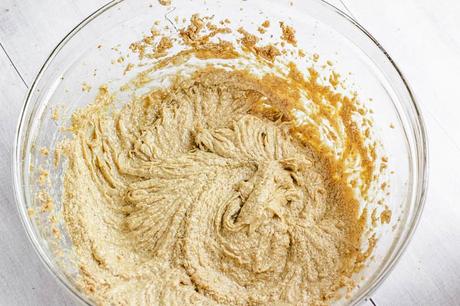 Step 2: Beat butter, sugars, and vanilla extract in a large mixing bowl until creamy. Add eggs and syrup, beating well.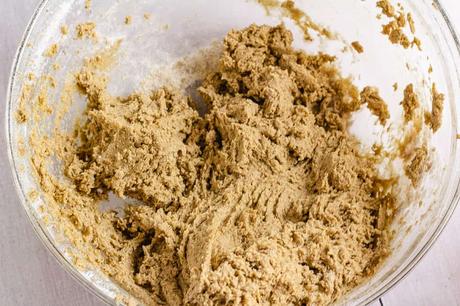 Step 3: Gradually beat in flour mixture.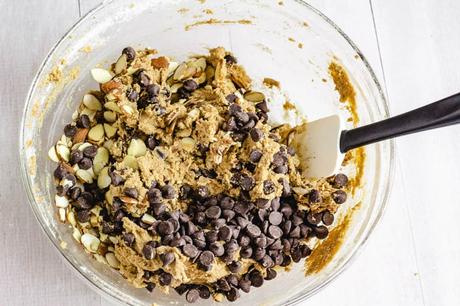 Step 4: Stir in chocolate chips and nuts.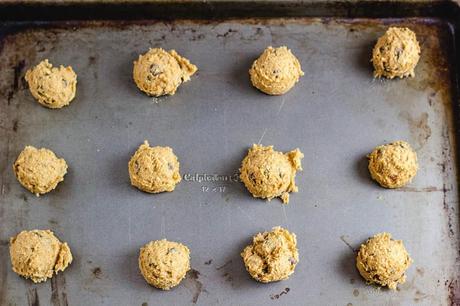 Step 5: Drop by rounded tablespoons or a cookie scoop onto un-greased baking sheets.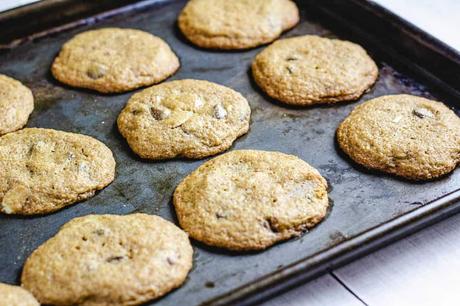 Step 6: Bake 9 - 11 minutes or until golden brown.
What Makes These Chocolate Chip Cookies Healthy?
Low Calorie: Each cookie only has 106 calories! Enjoy one without any added guilt.
Less Sugar: These cookies only have 10.5 grams of sugar per cookie. Many other recipes will have over 20 grams of sugar! That's much less! You can also reduce the sugar to just 5 grams per cookie by using only 1/2 cup coconut sugar + 1/2 cup brown sugar - the cookies will still be sweet with even less added sugar per cookie.
Cookies and sweets, in general, aren't overly healthy if you eat them constantly. These cookies should be eaten in moderation, just like any other dessert.
Will Kids Enjoy These Healthy Chocolate Chip Cookies?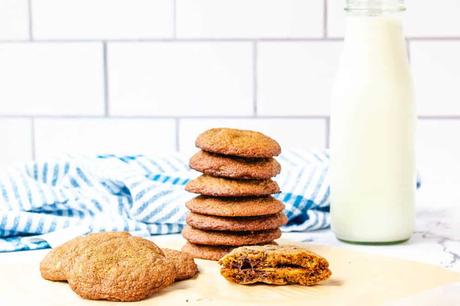 Yes, I have no doubt that most kids are going to enjoy everything about this ooey gooey chocolate chip cookie recipe. They won't even realize they're much healthier for them than other cookie recipes. They'll be more than happy to eat as many as you'll let them.
What's The Best Way To Soften Butter?
Recipe FAQs
What Kind Of Nuts Should I Use?
There are a few methods for softening butter that all work well.
On Your Countertop: The easiest method is to place the butter on your countertop and let it sit until it reaches room temperature. Typically, it only takes around 30 minutes for the butter to soften.
In The Microwave: Another option would be to place the butter in a microwave safe dish. You can soften it in your microwave for 10 to 15 seconds. You'll need to check it and make sure that it is soft but not melted.
In a Bowl with Warm Water: Take a bowl and fill it up with warm water. Then put the butter inside of another bowl that smaller than the original bowl and place it in the warm water. It's and important to not let the water touch the butter. It usually takes around 5 to 15 minutes for the butter to soften. It will vary depending on the temperature of your water.
How To Make Vegan Chocolate Chip Cookies?
You can truly use any kind of nuts that you like for these cookies. We love eating walnuts and almonds at our house so that's what I used. You could also chop up some pecans, use hazelnuts, or even peanuts if they fit into your diet.
How To Make Gluten Free Chocolate Chip Cookies?
Making this recipe vegan friendly is super easy! You just have to make these swaps:
1) Use Vegan Butter or Coconut Oil instead of the regular butter
2) Use flax eggs instead of regular eggs
3) Make sure you use dairy free chocolate chips like the Enjoy Life Brand
You can make this healthy chocolate chip cookie recipe gluten free by replacing just one ingredient: switch the whole wheat flour for your favorite gluten free flour, oat flour, or Bob's Red Mill 1:1 Gluten Free Baking Flour.
Never overmix the batter. If you do overmix the batter your cookies will be dense and won't taste near as good. Plus, when you overmix cookie dough it causes air bubbles to form - so when the cookies are baked the air bubbles pop and it leads to flat, super crispy (not soft/chewy) cookies.
Don't grease your baking sheet or the cookies will not turn out well. Because of the butter in the cookies they will already have enough oil.
The lentil flour mixes best at room temperature, not cold
Make sure to use softened butter, not melted butter in this recipe as it will change the texture of the cookies.
When scooping the cookies, be sure to pack them tightly in the cookie scoop/spoon so that they don't fall apart in the oven
Make sure your baking soda is fresh (not expired!) so that your cookies rise properly and aren't too flat.
To reduce the sugar even more, use 1/2 cup coconut sugar + 1/2 cup brown sugar in this healthy cookie recipe
When measuring the flour, be sure to spoon and level it into your measuring cup (vs. scooping the flour out with your measuring cup). That will ensure you end up with light cookies that aren't too dense.
Let the cookies cool completely before serving.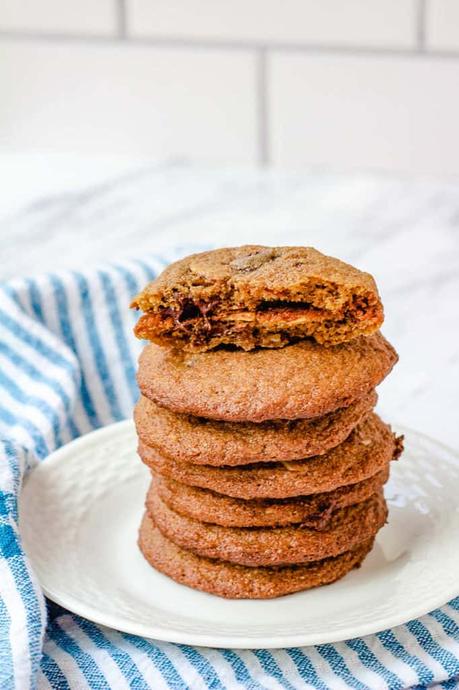 If you have tried this Healthy Chocolate Chip Cookies Recipe or any other recipe on my blog, then please rate it and let me know how it turned out in the comments below! You can also FOLLOW ME on
FACEBOOK
,
TWITTER
, INSTAGRAM, and
PINTEREST
to see more delicious, healthy, family friendly food!
Top Tips For Making The Best Healthy Chocolate Chip Cookies
Check Out These Other Delectable Dessert Recipes!
Secretly Healthy Chocolate Chip Cookies