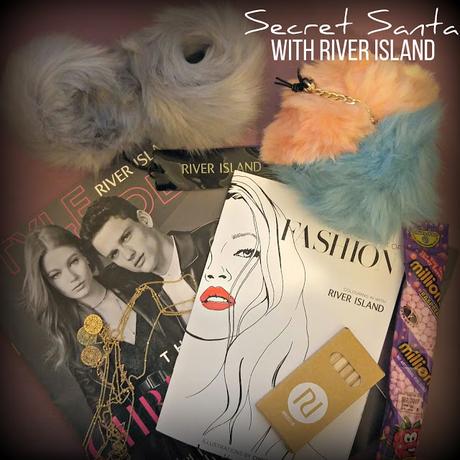 How are we nearly at Christmas?! I've just come upstairs to take a well earned break from wrapping presents and chat to you lovely bunch! I have been in hibernation (much like my dearly loved hedgehog) so have fallen off the radar a bit! However I have my glass of red wine and I'm typing whilst feeling very festive after watching Elf! 
Anyways so onto this little Christmas blog post about Secret Santa! I've only ever done a Secret Santa thing at one of my old jobs and quite clearly nobody gave their presents much thought.... other than me! I love a good old Secret Santa present shop because you can really try to investigate about a person and get them something amazing. I personally just like the great challenge it is. As you can imagine I was over the moon to be involved with the recent River Island Secret Santa, where I had to chose a blogger bud of mine to receive a little gift pack from moi and River Island. So this blogger hasn't a scooby doo I sent her this River Island party pack... unless of course she reads this and twigs it's me! In which case, ta-da! it's me! 
This blogger was an unexpected pal after meeting at one of the many blogging meet ups and she's been an awesome friend ever since. She's a blogger loads and loads of people look up to, and before I met her I never thought she'd really like me because she super popular. Plus after spending my entire school days as a girl who was friends with pretty much everyone but no one in particular, I was still never ever really 'friends' with the popular kids... but now I am and she's just fabulous! She has amazing style and I envy how glam she always is. I keep deleting sentences because it's going to be too easy for her to guess so I will just refer to my party pack to see if it gives any clues. In this pack is lots of fun accessories for style over the party season, a bit of glam with faux fur cuffs to wear with your leather gloves, a beautiful gold necklace to liven up your go to night out top and a multicoloured large pom to attach to your bag! River Island did throw in some gold coins and a some sweets but I demolished them whilst dealing with the antics of Geordie Shore last night.... oops.
That's it really, but to my blogger pal you are a wonderful friend - I hope you enjoyed your pack, have a lovely Christmas and I hope to see you in the New Year! :) 
Merry Christmas everyone... I'll be back with a bang soon after Christmas hibernation.