Breaking from the 'Home From Home' nature of Benidorm's 'Rincón De Loix', we boarded an ALSA bus towards 'Callosa d'en Sarrià'. The 'Algar Waterfalls' were very much on our radar but being curious I wanted us to visit the lesser known 'Spanish' town of Callosa to see a quieter setting, which wasn't tacky! Stretching my Spanish language capabilities felt great! ¡Adelante, C!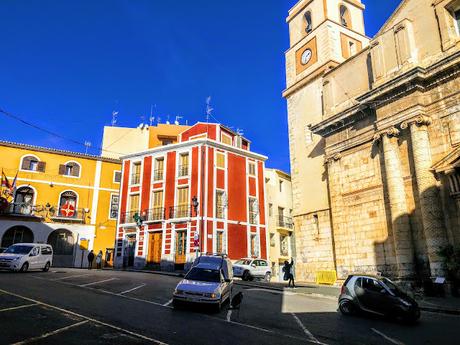 Ditching the usual touristic options, the time of year had us making our own excursion plans! Not being the summer, we had to get inventive with our travel plans as mentioned before, in actual real life terms Callosa wasn't all that far from Benidorm it was just the logistics of it. Booking our ALSA Bus tickets the night before, the following days bus journey from Benidorm to Callosa fared to be manageable. Passing through several smaller towns and one place called 'Barony of Polop' already told us that 'Callosa d'en Sarrià' would served something more rustic and local. Skip to the good part! After seeing the 'falls', the same taxi brought us back to our Callosa starting point. Stepping out of the taxi within Callosa's 'Plaza de España' had me looking at a Google Maps moving image in real life, that did impress me much! Things were quiet, the 'Square of Spain' set the perfect scene for our afternoon in Callosa d'en Sarrià! Sant Joan, who?
With its mix of council and commercial buildings, the 'Parròquia de Sant Joan Baptiste' stood as the dominant feature of that public square. We weren't able to take a look inside that religious space but the exterior looked just as good, mighty fine things did look! The small town square oozed 'Spain' because no trace of British tourists could be detected, once again it was definitely 'Strictly Spanish'. I loved the square, most of all it had several different artery like roads and alleys leading from it, something told me that making the trip from Benidorm to Callosa had been worth the extra planning. Callosa's 'Plaça d'Espanya' energy allowed us to feel like we were a million miles away from Benidorm's 'Rincón de Loix!' Where to next? Quite frankly I was much to preoccupied with taking photos of Callosa's main public square! Fiestas or not? The 'Plaça' looked like a space fit for a celebration! Life was the celebration during that Callosa day!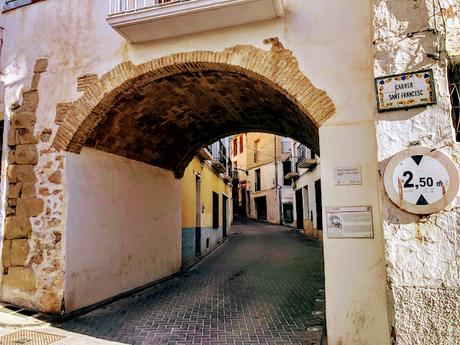 Callosa had me under a spell, that was no word of a lie because those silent historic streets were serving 'silence', for that I was feeling thankful for that! Living in a town like Callosa? You just try and stop me once that 'dinero' has been saved! It didn't take us all that long until I found 'El Portal', a tunnel like gate that led to a winding road with more gorgeous period houses. After doing some digging, I found out that this 'door' had acted as a buffer to the main square and others parts of the inner town during the 14 century, invading forces were most certainly not wanted in Callosa during that time. The stone 'portal' had me impressed, it sure did look bulletproof from where I was standing. 'Carrer Sant Francesc' had me feeling smug, how many of those summertime waterfalls bound coaches from Benidorm would stop to see such a town? Not many! So, this silent 'portal' served what the Google image had done during my research! 
Being just after the Christmas and New Year's period, we did see a smattering of seasonal 'Navidad' decorations as we strolled through the darling streets of Callosa d'en Sarrià. Those decorations were not garish whatsoever, we saw a series of thoughtful and artistic cloth displays hanging from several balconies. Those cloth decorations were of the 'Baby Jesus', strangely enough I appreciated those tasteful Christmas decorations because something they can ruin the essence of a place. Sure, Callosa looked gorgeous from head to toe! The calm nature within those hidden 'Carrers'. Callosa had my whole beating heart, in that moment I knew that I didn't want to return to Benidorm! Those almost secret streets felt like they were ours, even when we saw people pass by they smiled at us with a warm sense of friendliness. Callosa's welcoming nature had me sold! Just because a road seems to be less travelled, for us the journey was worth it! Yes!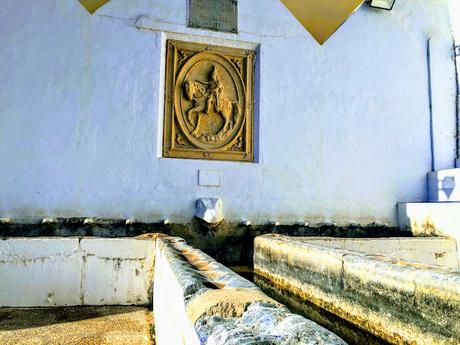 Moving through the town, we had one final place to discover before our late lunch in Callosa. Finding 'El Paodor de la Font Major' along 'Calle La Font' allowed us to meet our final place of interest in Callosa. From first glance this final place looked like a public laundrette of sorts? Yes, that had been the former us of this now preserved public washing machine. Upon doing some reading about 'El Paodor', I found out that it was built in 1786 by the local town hall to act as a source of drinking water and for local residents to wash their clothes at. With careful consideration, the 'font' had been constructed to host seventy people at any one given time. In 1910 it was decided that a roof would be constructed, allowing the laundry to carry on during all weathers. The taxi driver had told us that his childhood home was near 'El Paodor'. ¡Lavarlo, Callosa! This Valencian town packed in the history for sure, I appreciated that love! Te amo, C!
Done with our Callosa sightseeing pursuit, I had already found a place to eat during my pre-trip research. 'El Meson' had to be the place for us to try, retracing those online steps but in realtime allowed me to remember the way without knowing. Ordering another menu of the day, we both enjoyed the same chicken soup. The soup tasted lovely, it was like a chicken noodle recipe. For our main, we both went for the pork cutlet. The curse of the chips had followed us to Callosa because they didn't impress us much but otherwise the main was great! Both of us enjoyed a delicious dessert, choosing to finish with coffee sounded great to me! The local feels within 'El Meson' gave us a true Spanish experience, needless to mention I used 100% Spanish when ordering! The next table celebrated a birthday, it refreshing to see people my age having a civilised dinner without getting inebriated. Callosa d'en Sarrià will always have a my love! Bye! 
Mucho Amor Para Ti! 
Joseph Harrison