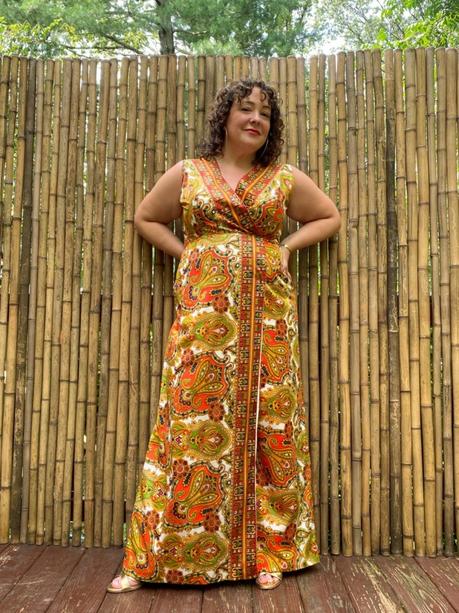 This January, I went with friends to Palm Springs. Our last day, the car packed up for our drive to San Diego for a conference I was attending after our getaway, we stopped for coffee. And next door to the coffee shop was a vintage boutique - Iconic Atomic. We stopped in, though I figured there wouldn't be anything on the racks that would fit me. Anyone over a size 8/10 knows that pickings get hella slim when it comes to great vintage clothing, and the larger the size, the less selection there is. But among the racks I saw a dress that looked about my size. I pulled it off the rack and realized it wasn't a dress it was a jumpsuit. I tried it on and it almost fit me perfectly! Clearly handmade, but by someone who knows how to sew. Carefully lined and tailored for a woman similar to my shape but a little taller, I bought the jumpsuit knowing my tailor at home could shorten it and nip here and there to make it perfect for me. I dreamed of all the places I'd wear this jumpsuit; I knew I'd wear it with my Margaux Uptown Sandals and took them with me to the tailor for the right length. That was January.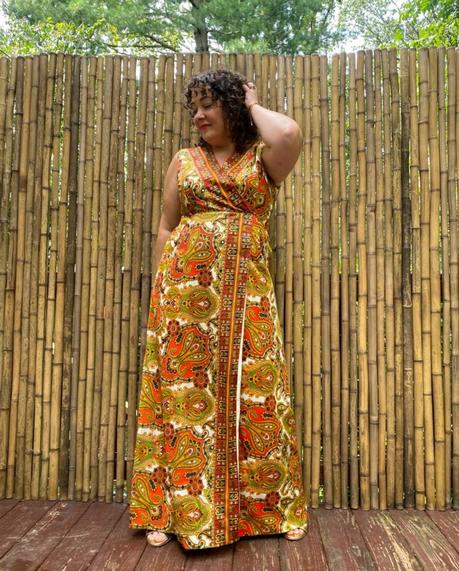 Jumpsuit: Vintage purchased at Iconic Atomic | Shoes: Margaux (read my Margaux heels review) | Earrings: Jenny Bird | Bracelets: one is from Gorjana (this is similar) and the other is from Metal Marvels | Lipstick: A now-discontinued red with Fenty's Cheeky gloss over it
And then COVID happened, and there were no situations where I could rock this amazing vintage jumpsuit. Too delicate to wear about the house, it has collected dust in my closet. But then I remembered September is known as Secondhand September, a time to promote second-hand shopping, something that makes a heck of a lot of sense considering our current economy, our current lifestyle, and the current condition of our planet. No better time to rock this amazing jumpsuit, which I know will make it's world debut once things settle down. But for now, a little shoot on our back deck!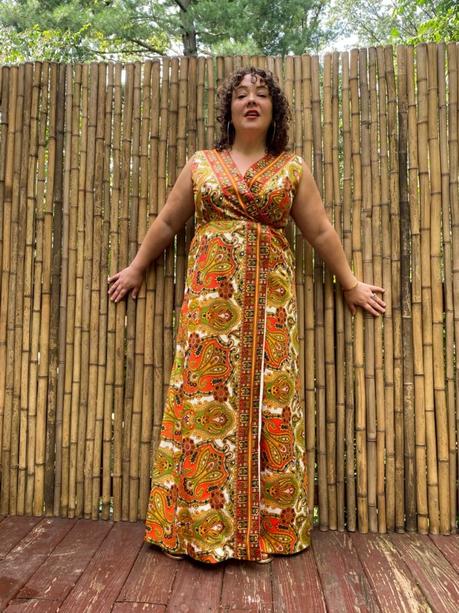 This jumpsuit is so unique because it looks like a wrap dress, but the back view is classic jumpsuit. It is fully lined, the jumpsuit as well as the wrap portion in front and has a back zipper. The only thing I'd love is pockets in it, but heck I want pockets in everything!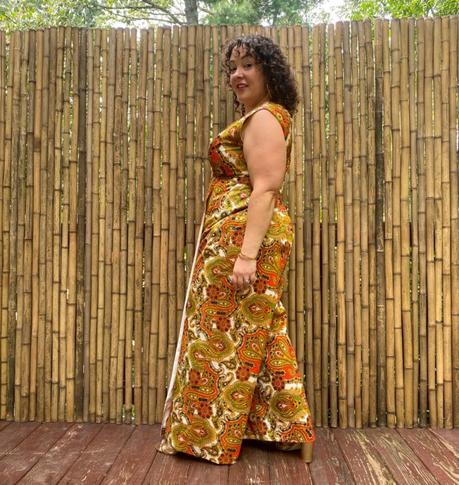 These are seriously the only heels that my feet comfortably fit into this deep into COVID shoe life (which has been Birkenstocks, hiking boots, sneakers, and the occasional wide-width flat sandal and Rothy's flat). Not only that, they are the only heels I still feel stable in. These shoes are incredible and even though they won't get worn out and about any time soon I don't regret buying them. They will be there for me when the world opens up, and they're fun to dance around in on my back deck!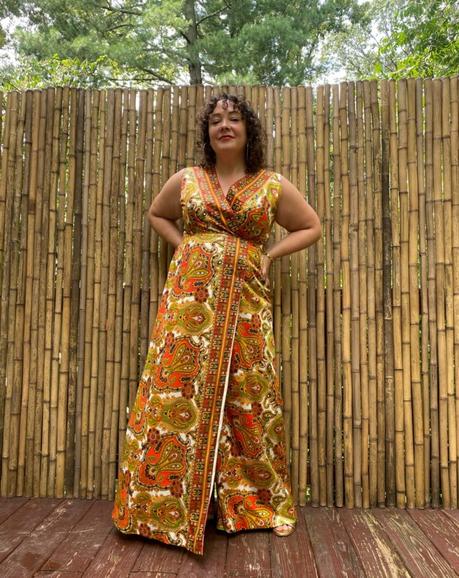 While there is no way to be able to get this exact jumpsuit, I did a little searching for fun vintage and second-hand pieces like this for you to peruse and made sure to have the collection as size-inclusive as possible:
More Than Your Average is an online boutique that curates thrifted and vintage pieces focusing on sizes 12+
Los Gitanos Vintage is a DC-based shop that curates the most covetable vintage and thrifted pieces. Her eye is impeccable.
The Plus Bus is a curated collection of gently used and new plus-size fashion. They have a store in California but also do sales via Facebook and Instagram.
Venus Vintage Clothing is a UK-based Etsy shop that focuses on vintage clothing in US sizes 10-24
Persephone Vintage is a US-based Etsy shop I have shopped from that finds thrifted and vintage pieces that are incredibly on-trend for right now
The Edit Vintage is a Canada-based Etsy shop I have shopped from (the owner used to be a fashion blogger back in the day). She also has a storefront and sells on Instagram
Braxae is a US-based Etsy shop that specializes in the most glorious sequined and fabulous vintage. The prices aren't cheap, but gosh the selection is divine!
Vintage Apparels Goods is a US-based Etsy shop I stalk for vintage graphic t-shirts, sweatshirts, jackets, and memorabilia
I also have a Poshmark shop, and this is a reminder to list some more stuff very soon!
The Plus Directory is a great resource for plus-sized boutiques and they state if the boutiques are vintage, second-hand, or consignment.
If you have suggestions of great places to shop second-hand online, do share in the comments!
Shop Vintage Fashion Online: