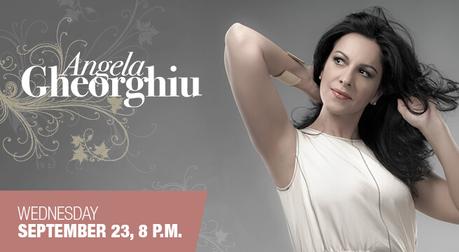 Tonight Angela sings the second recital in US, after the much acclaimed one in Los Angeles. This time fans on the other coast will enjoy the beautiful program at the Indiana University Auditorium in Bloomington, Indiana.
As a part of the IU Auditorium's 75th season, Angela's performance will "pay homage to the early days of the Auditorium, when (the building) frequently housed touring presentations from the Metropolitan Opera." said Maria Talbert, the IU Auditorium's managing director, in an interview for Indiana Daily Student. 
Mon coeur is still in the program, I'm still not able to listen to it live. My time will come, someday :)
Jeff Cohen will accompany Angela at the piano. 
Program O cessate di piagarmi by Alessandro Scarlatti O del mio dolce ardor by Christoph Willibald Gluck Tre giorni son che Nina by Giovanni Batista Pergolesi Nel cor più non mi sento by Giovanni Paisiello Malinconia by Vincenzo Bellini Me Voglio Fa'na Casa by Vincenzo Bellini Brindisi by Giuseppe Verdi Nebbie by Ottorino Respighi Foglio d'album by Giacomo Puccini Morire by Giacomo Puccini Sole e amore by Giacomo Puccini In quelle trine morbide by Giacomo Puccini (from Manon Lescaut)
Come Again by John Dowland The Last Rose by of Summer Friedrich von Flotow The Bohemian Girl by Michael William Balfe Ombra di nube by Licinio Refice Ideale by Francesco Paolo Tosti La Serenata by Francesco Paolo Tosti Chanson de l'adieu by Francesco Paolo Tosti 'A vucchella by Francesco Paolo Tosti Beauty's Eyes by Francesco Paolo Tosti Cantecul fluierasului by George Stephănescu Mon cœur s'ouvre à ta voix by Saint-Saëns (from Samson et Dalila) Ecco: respiro appena by Francesco Cilea (from Adriana Lecouvreur)
Toi toi toi!