Using the same approach as in the last painting, I started this new abstract painting on paper by doing the background first and letting it dry.  It took several stages, each of which had to dry before the next one:  drawing circles, filling them in with a translucent wash, then drawing patterns in different colors and filling in the shapes I created.
In this second painting, I began the outside lines in burnt umber, then burnt sienna, and worked my way through the reds to orange in the center.  So the pattern is similar to the previous painting, but the colors are different.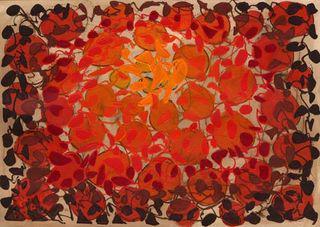 Paper Block #8, 20" x 14" acrylic on paper.