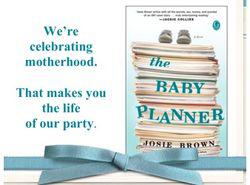 Seattle always has sunshine when I come to town. Seattle readers -- and expectant moms, for whom my latest novel will surely resonate -- I hope you'll join me at my parents party for THE BABY PLANNER. Lots of raffle prizes, samples, and coupons.  Here are the details:


Date: Thurs, June 2, 2011, 11am
Location: Planet Happy Toys / 2914 NE 55th Street, Seattle, 98105
Tel #: 206.729.0154
RSVP to: [email protected] or on Facebook at http://www.facebook.com/event.php?eid=206163599396291
Planet Happy Toys is throwing the ultimate parent party.  Hosted by ItsaBelly-Seattle baby planner Windy Gossett to celebrate the launch of author Josie Brown's latest novel entitled (appropriately enough) The Baby Planner (Simon & Schuster).
Brown will read from the book. Afterward Gossett will discuss tips on buying safe and non toxic baby products.
LOCAL SPONSOR: ItsaBelly, National Baby Planning & Maternity Concierge Services
THERE WILL ALSO BE GIVEAWAYS FROM:
- Sprout Organic Baby Food
- Kiwi Magazine, for Growing Families the Natural and Organic Way
- EcoStoreUSA, maker of Eco-Safe Cleansing Products
- Spiffies, maker of Infant Dental and Teething Wipes
- Organic Mother's Milk Tea, from www.TraditionalMedicinals.com
- ArtBellies.com, Making Your Work in Progress a Work of Art
- Gift bag from PrinceLionheart.com
- Maclaren Beginning Skin Care, safe non toxic!
- And a special Itsabelly gift basket, which includes:
- "Itsabelly's Guide to Going Green with Baby" book
- NoseFrida Snot SuckerATTENDEES WILL AUTOMATICALLY BE ENTERED INTO CONTESTS FOR:
- A set of Wonder Bumpers, the #1 doctor-recommended crib-safe bedding from http://www.GoMamaGoDesigns.com
- A gift from The Happiest Baby on the Block
- A gift from Beth Duris, Shaklee Distributor-
-  A copy of The First 8 Days of Being a Mom
- A $100 gift card to their favorite bookstore, courtesy Josie Brown. The drawing will be done on 6/22/11.
AND YOU'LL RECEIVE COUPONS FROM:
- Minted Custom Invitations  - The Eco Breast Pump  - Beaba USA - Bloomin' Belly Soaps
RSVP strongly Advised! We look forward to seeing you there!
-- Josie
"Brown (Secret Lives of Husbands and Wives) takes baby mania to its illogical, hysterical extreme in this bubbly romp...But what begins as a light foray into Bugaboo country turns into something bigger than a satire of status-obsessed Bay Area yummy mummies as Brown takes a dark look at the fears of parenthood and family, with Katie's heartbreaking longing for a child unveiling a disturbing reality about her marriage and family. Still, the message from the somber realities is one full of hope: love makes a family, commitment keeps it together." --Publishers Weekly