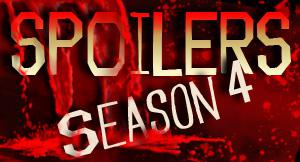 Season 4 Spoiler Alert!
As True Blood starts charging towards the Season 4 finale, executive producer Alan Ball was on hand at HBO's summer TV session to dish out a few spoilers — and when we say few, we mean very few. Here is the transcript of our rapid-fire lightning round with the very cagey Ball:
What will we see in the war between witches and vampires?
Ball: It will go places that surprise you. It's not linear.
What can you say of the Bill-Sookie-Eric triangle?
Ball: It's complicated.
Will Sookie (Anna Paquin) be able to forgive Bill (Stephen Moyer)?
Ball: I believe forgiveness is possible for everybody for everything, but I'm a Buddist, so…
Were you careful with the relationship between Eric (Alexander Skarsgard) and Sookie because of Team Bill?
Ball: I don't worry about Team Bill or Team Eric. I love [the fourth book] because I thought it was a great story, but I'm Team Sookie.
Because Jason (Ryan Kwanten) drank Jessica's (Deborah Ann Woll) blood, will his sex dreams continue?
Ball: He's had her blood and he's already a very sexual person, but he's going to be attracted to her.
What is the season building up to?
Ball: The fate of vampires as a whole.
What's the big, bad villain for next season?
Ball: We are just in the beginning of Season 5, so it's too early to say, but we're basing it on the books.
Do you feel pressure to top each villain?
Ball: I don't think that way because that's only a recipe for trouble. I love my job, I enjoy doing it. I'm not going to put pressure on myself to top. I just want to tell the best story and the most fun story.
source: omg.yahoo.com