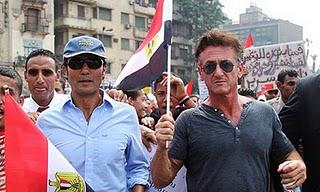 This past Friday was the "Friday of Reclaiming the Revolution." Sometimes I just wonder if the activists will run out of names for their Friday protests?
Thousands of activists, including Sean Penn, occupied Tahrir this past Friday, September 30, 2011. According to the British Guardian Newspaper, "The two-time Oscar winner arrived in North Africa at the invitation of Egyptian film star Khaled El Nabawy as part of efforts to show the country is once again safe for tourists following the revolution earlier this year that overthrew the regime of president Hosni Mubarak." (Ben Child, "Sean Penn Joins Protesters in Egypt," The Guardian, October 3, 2011)
I like Sean Penn. He was compelling and plausible in the movie Mystic River. I also like it that he is an activist. One more reason for me to watch his movies!
Many protesters were objecting to the concept of military rule. Other protesters were condemning the extension of the state of emergency. Field Marshall Tantawi of the SCAF was a special object of the protesters' anger. Demonstrators also protested against military treatment of civilians. Many protesters emphasized that this revolution was not going to turn out like 1954, and that Field Marshall Tantawi is not Gamal Abdel Nasser.
As explained by a particularly eloquent protester--Mirale Mohamed Hashem--who channeled my thoughts exactly, "This is not why we revolted. The goal of the revolution was to get rid of a tyrannical, oppressive regime, not to replace it with another one." (Ali Abdel Mohsen, "Activists, Sean Penn, Take to Tahrir for Friday of Reclaiming the Revolution," Al Masry Al Youm, September 30, 2011)
On Saturday, the SCAF represented by Armed Forces Chief of Staff Sami Anan sat down with leaders of 15 political parties. According to Al Shorouk, the camps agreed to a roadmap to hand over power within one year, (although we have heard that song before). The hardline Islamist Jama'a al-Islamiya was not invited to the meeting. Apparently, the People's Assembly and Shura Council will hold their first meetings in January and March, respectively.
According to Ahmed Zaki Osman writing in Al Masry Al Youm, the political parties are divided over Saturday's meeting. The Wafd party as well as the MB's Freedom and Justice Party, and the Adl party signed a statement following the meeting pledging their support for the SCAF. Thirty members resigned from El Adl after they signed this statement.  This statement was met with derision by the Popular Socialist Coalition Party.
The Wafd party has allegedly been recruiting former NDP members. This has apparently created a rift between Wafd and the MB's Freedom and Justice Party, which were thinking of forming a coalition. On Monday, the SCAF approved a treachery law which supposedly will prevent Mubarak regime members from being active in politics for five years, and remove those officials from their government positions. The treachery law was passed initially after the 1952 Revolution.
Meanwhile, Egypt is in financial trouble. Economic growth is at 1.36 percent in the 2011-2012 financial year. Growth for the 2010-2011 financial year was at 1.8 percent, a low figure. Mohamed El Baradei has warned that Egypt may face bankruptcy within six months, and criticized the SCAF for economic incompetence.