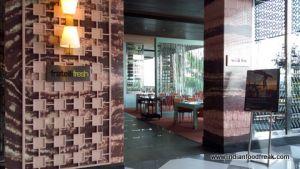 It's not every day that I get an invite to attend a master class of varieties of Seafood by a professional chef who, in his own words, "can grill anything and have been grilling since last 17 years". This was a seafood workshop by Chef Cristian Cabrera, the Italian specialty chef at Fratelli Fresh, Renaissance Mumbai Convention Centre Hotel.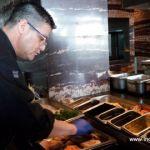 With a few like-minded foodies, there I was on a Saturday afternoon getting ready to learn the techniques of a perfect seafood grill. Chef Cabrera showed us how to perfectly marinade and grill a salmon, a lobster and a sea bass. Chef first used a very simple marinade of thyme and olive oil and kept aside the pieces for 10 minutes. Then he put the fish pieces on the grill and pressed a little with the hand. Chef insisted that the grill must be very clean or else the flavors will not come through. He poured few drops of olive oil and rubbed rock salt and pepper over the fish pieces. When one side was done, he flipped over the other side. Now put the lobster pieces. Chef Cabrera told us that it was important to keep the shell of the lobster as it has the actual taste and flavor. Chef said be very patient with the grill or you will not get the result.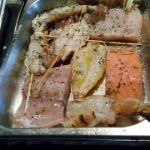 Chef then showed us a quick Piccata sauce to go with the grilled fish and lobster pieces. Again a simple sauce with minced garlic (lots of them), butter, capers, olive oil, herbs, flour, baby tomatoes for color and white wine. Garnish with some fresh parsley and let it remain on the slow fire for few minutes till all the flavours are mixed and a perfect piccata sauce comes out.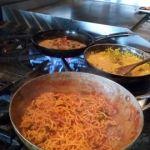 Chef served the grilled fishes and the lobster with Risotto and Spaghetti. The risotto was so wonderfully creamy and smooth, just the way I liked. The seafo od added to its taste and when Chef poured the sauce over it the whole dish was an awesome experience for me. I loved the titbits about cooking seafood that Chef shared with us. He very sportingly held a piece of lobster and ate it with his hands, thoroughly enjoying it. He said that's the correct way to eat a lobster - "use your hands."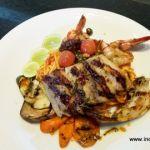 It was my first "insiders" experience at a five star kitchen and I came home inspired to experiment more with the grill pan.
For those interested, Fratelli Fresh has an excellent menu with varieties of seafood to choose from. This place offers fantastic view of the Powai Lake and you can enjoy a cozy dinner or lunch with your loved one/s as you sip a glass of wine as the team headed by Chef Cabrera dishes out delicious seafood stuff for you.
Address: 2 & 3B Near Chinmayand Ashram, Mumbai, Powai 400087| Telephone: 022 6692 7540