A few weeks ago, I was lucky enough to be able to attend San Diego Comic-Con. While "The Martian" has been on my mental 'to-read soon' list, yet I hadn't picked up a copy before I made the trek out to San Diego.
This horror would soon be remedied.
Thursday brought along with it the usual excitement and crowds; thousands were eager to jump into the first full day of panels. To my surprise, we were able to walk in to Hall H and grab some seats for the Doctor Who panel (woohoo!). The only other Thursday panels that I was interested in were: "NASA: Turning Science Fiction into Science Fact" and "NASA: Journey to Mars."
Yes, they were amazing.
It was during the "Journey to Mars" panel that I nearly cried over the fact that I hadn't already read "The Martian." Its author, Andy Weir, was a member of the panel and was so warm, witty, and such a space-geek that I decided I would read the book as soon as I could. I returned to Phoenix and bought the book.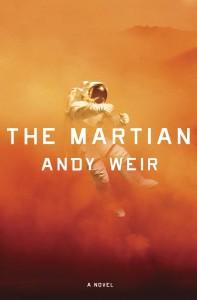 You may ask yourself: "Should I read this book?" or "But I'm not into science fiction, why would I read it?" or "What even is Mars?"
The answers to your questions, respectively:
1) Yes. Read it.
2) My friend and I had a little debate about whether we should call it "Science Fiction" or just "Fiction" (the fact that this was even happening was beautiful – #journeytomars). Read it.
3) Who even are you? Read it.
I would tell you that I won't give you any spoilers, but that statement operates under the assumption that something in this universe could spoil, in any way, this book.
So check back soon – for "spoilers" and my full review!
Make sure to subscribe to get a notification when my review is up!
Book Cover Image retrieved from: http://7321-presscdn-0-57-pagely.netdna-ssl.com/wp-content/uploads/2015/04/91c4ZDFCn1L._SL1500_.jpg
Parks & Rec gif retrieved from: http://media.giphy.com/media/mjms0KtjkkaKQ/giphy.gif