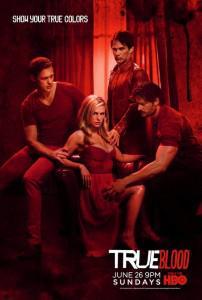 True Blood is coming to SDCC 2011! Recently I updated the post for the date and attendees for the 2011 True Blood Panel and over the weekend, Comic Con released a schedule of events for the entire 4 day bash.  As always, True Blood Fan Source will be doing its best to bring you the most up to the moment on Comic Con 2011. I will be attending the event along with one our staff writers, Isis Noctourne. So what True Blood related events will we be going to?
Our Comic Con coverage will kick off with TV Guide Magazine: Fan Favorites panel on Thursday July 21 from 4:15-5:15 in Ballroom 20. It will be moderated by TV Guide editor-in-chief Deborah Birnbaum and feature Joe Manganiello (Alcide Herveaux). Joining Joe will be actors from the Big Bang Theory, Chuck, The Vampire Diaries, Dr. Who, and more.
Friday July 22 will be the big day for True Blood fans with the True Blood Q&A Panel featuring creatorAlan Ball, Anna Paquin (Sookie Stackhouse), Stephen Moyer (Bill Compton), Sam Trammell (Sam Merlotte), Deborah Ann Woll (Jessica Hamby), Rutina Wesley (Tara Thornton), Nelsan Ellis (Lafayette Reynolds), Kristin Bauer van Straten (Pamela De Beaufort), Ryan Kwanten (Jason Stackhouse), Kevin Alejandro (Jesus Velazquez), Joe Manganiello, and Alexander Skarsgård (Eric Northman) from 5:30-6:30pm in Ballroom 20.
For those of you who would like to get an autograph from your favorite cast members, MTV reports that tickets for the True Blood signing will be sold at the Sails Pavilion starting at 1PM for the signing which starts at 3:30PM. But unless you can be in two places at once, it will be very difficult to do both the signing and the panel.
Saturday July 23rd features three True Blood related events. But like with the autograph session Friday, those who are at Comic Con Saturday will have to make a choice for two of them.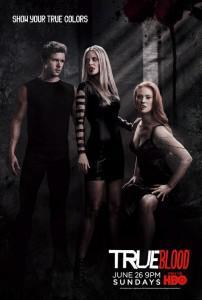 In
Hall H
, Ryan Kwanten and the cast of his spring 2012 movie
The Knights of Badassdom
will be presenting a trailer for the movie and doing a Q&A which begins at
2:15
. In
Room 5AB
at
2:30PM, Senior Editor
at
TV Guide William Keck
will be moderating the 
TV Guide Magazine Presents: Super Supernaturals
panel which will feature Kristin Bauer van Straten as well as cast members from Torchwood, Grimm, the Secret Circle, and Teen Wolf.
At 6:00PM in the Indigo Ballroom at the Hilton Bayfront Hotel, True Blood composer Nathan Barr will be on a panel entitled Behind the Music with CW3PR: Composing Horror to Animation and Everything in Between with composers like Michael Giacchino and Robert Duncan among others.
I will be going to the True Blood panel and both TV Guide panels indefinitely and will try to make it to Nathan Barr's panel. We are currently trying to figure out if anyone can go to Ryan Kwanten's. If anyone will be going to the Knights of Badassdom panel please let me know by emailing me.
Now that you know what we're covering, here are some Comic Con tips from various True Blood cast members.
Deborah Ann Woll about what makes a good panel and what not to do at the True Blood panel. She recently spoke to the Hollywood Reporter about it and says that a good panel to her is one where the artists are just allowed to talk about their creative processes rather than answering a lot of questions. Speaking of questions, she warns fans of True Blood not to ask for spoilers in their panel because no one can tell you anything. You just have to wait and see. Her must not miss for comic con is artist's alley where she says artists will do commissioned pieces for around $50.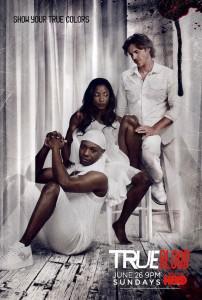 Ryan Kwanten is a seasoned Comic Con veteran but he tells the Hollywood Reporter that he can recall before
season 1
even premiered that fans of the
Charlaine Harris
series on which True Blood is based packed Hall H without a problem. He also got separated from the rest of the cast another year and ended up enjoying wandering around the convention on his own. He was enjoying himself so much that he was reluctant to go back to his group even after a search party was sent out for him.  His tip for first time comic con goers? Sleep as much as you can before you go, then go early, absorb it, and lose sleep. Duly noted Ryan!
Michael McMillian (Steve Newlin) who wrote the True Blood comic series Tainted Love revealed to the Hollywood Reporter that he likes Game of Thrones and wouldn't hesitate to stand in line for a few hours to get in on their panel. And of what he has in the works, the Indian and the Bandit is the next graphic novel McMillian has penned joining his other comic achievement Lucid.
Are any of you going to Comic Con? Tell me what you're most excited about below!
Sources: Comic-Con.org- "Comic Con 2011 Schedule of Programs"
MTV.com- "Warner Bros. Will Follow SDCC's Autograph Ticket System – We've Got An Up To Date Signing List!"
HollywoodReporter.com-"Comic-Con 2011: 'True Blood's' Deborah Ann Woll (Q&A)"
HollywoodReporter.com-"Comic-Con 2011: 'True Blood's' Ryan Kwanten (Q&A)"
HollywoodReporter.com-"Comic-Con 2011: 'True Blood's' Michael McMillian (Q&A)"
Image Credits: HBO, Inc.
Featured Images: True Blood Fan Source and Comic Con International