Scylax Escape is expected to be one the Lebanon's most fascinating beach resorts  in the southern shores of Lebanon. Created by architect Jean Bou Doumit, the project looks like a secret sanctuary with a weird flying structure from the outside, and from inside you feel yourself  in a contemporary "Temple of the sea".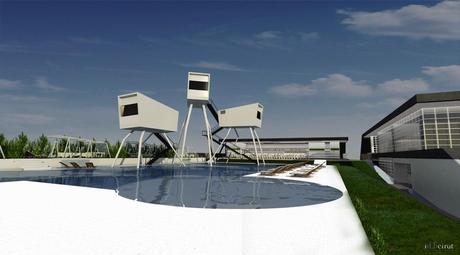 Horizontal layers emerging from the ground creating the leveling of the project revealing the ground layers and elevation of the area surrounding the project, the architecture in itself is integrated in the scenery of the coast and in the same time is present with its folded landscape pulling the visitor from the main entrance to the beach, guiding him for a walk to discover all the perspectives from which he can perceive the space in a different context and scale.
And what made all this happen is the landing of those three "bugs",  a 13m height steel structures perceived from all the angles of the project, three bugs over a 1000sqm platform drawn by water in which many Jacuzzis emerges to serve the clients hunger for luxury and pampering.  The bugs are three VVIP bungalows.

The Projects rooftops are all covered by natural grass, decreasing the use of Air conditioning systems and increasing the green areas in the project, being eco-friendly and using solar energy was a main point during the conception phase of the project.
Two pools, twenty Jacuzzis, two restaurants, nine chalets and seven bungalows and SPA only, on a 6000sqm of land plot, so you imagine the wide landscape and the green areas where the visitor can breath and enjoy the charm and magic of the space.
White reflective platforms, raw finishing, calm architecture with a provocative steel intervention. Light and wind where part of the design journey, experiencing extreme heights and wide impressions where part of the action.