Church bulletins are great. They contain information the congregant will need during the week, such as which deacons are 'on call', who is going to staff the nursery next week, and what time the church supper starts on Wednesday. Some pastors include sermon notes, or a devotional.
The cover always contains a pretty picture and a lovely verse. The picture is always eye catching. One might see a meadow-covered mountain top or a close-up of a pretty flower. The verse is always likewise. Always. It's encouraging, or it speaks of God's love or a promise of God.
I'm irked by this.
Leave it to me to be irked by something pleasant, right? But just once I'd like to see a different kind of verse on the front of a bulletin, a verse that speaks of God's wrath, or His justice, or something unpleasant. "All Scripture is breathed out by God and profitable for teaching, for reproof, for correction, and for training in righteousness," says 2 Timothy 3:16, so let's not always focus on the verses that please us or encourage us. What about the verses that challenge us, or convict us, or make us think, or speak of an aspect of God that's increasingly denied these days, such as His wrath?
Here is today's entry: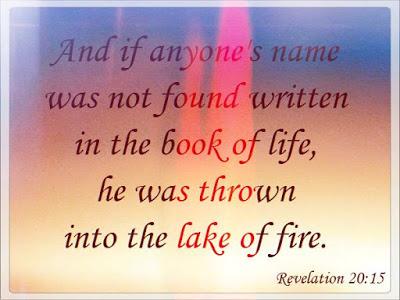 It does us good to be reminded of our former destination, before the call of God came to regenerate our heart and we repented. Keeping the fate of the unsaved ever before us should spur us to witness and to urge those who dwell in wrath and in bondage to sin to turn to Jesus. The Gospel is His permanent, ever-saving message. It should also remind is of the holy justice of our Holy God, rendering wrath unto those who rebelled and rejected Him. Church bulletin photos and verses only ever seem to focus on the holy blissful side of our stance with God and His love. His holy wrathful side and His justice are also important aspects of His wonderful Being.
Jamieson-Fausset-Brown Bible Commentary says of verse 15
The blissful lot of the righteous is not here specially mentioned as their bliss had commenced before the final judgment. Compare, however, Mt 25:34, 41, 46
Faithlife Study Bible reminds us of the purpose of the lake of fire:
the lake of fire: This final death, which leads to eternal separation and judgment, is permanent and inescapable
I'll finish with a comment from the great Matthew Henry's Commentary on the Whole Bible. How wonderful to be reminded of these things, from discomfort at the verse bringing to mind of the inescapable judgment of God, how sweet, then, is the reminder of His grace!
All those who have made a covenant with death, and an agreement with hell, shall then be condemned with their infernal confederates, cast with them into the lake of fire, as not being entitled to eternal life, according to the rules of life laid down in the scripture; but those whose names are written in that book (that is, those that are justified and acquitted by the gospel) shall then be justified and acquitted by the Judge, and shall enter into eternal life, having nothing more to fear from death, or hell, or wicked men; for these are all destroyed together. Let it be our great concern to see on what terms we stand with our Bibles, whether they justify us or condemn us now; for the Judge of all will proceed by that rule. Christ shall judge the secrets of all men according to the gospel. Happy are those who have so ordered and stated their cause according to the gospel as to know beforehand that they shall be justified in the great day of the Lord!
---------------------------------------------------
Scripture photo "Church Bulletin" series #1, Vulture
Scripture photo "Church Bulletin" Series #2, Anguish
Scripture photo: "Church Bulletin" Series #3, Hell