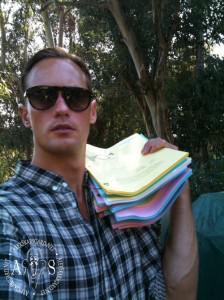 Jesse Cartwright was a part of the transport crew on True Blood who passed away during the filming of Episode 4 in January. We have an auction currently running for a season 2 pack that you can read about here and place a bid here.
TrueBlood-News, Sam-Tramell.com, AlexSkarsgard.net and FYeahJoeManganiello have also joined in with another auction to benefit Jesse's family.
They are auctioning off the script for season 3 Ep 302, "Beautifully Broken" signed by Alexander Skarsgard! It's Alexander's own copy and has Alex's notes, creases marking his pages and his germs all over it 'cause he cuddled the script against his… ok I better stop now.
To bid on the script, click here.
Find out more about Jesse, and donate to help his family.