Simultaneously nominated for a Razzie for Worst Director and the Sundance Grand Jury Prize for Best Drama, Boxing Helena is a roundly condemned portrait of obsession and possession. Like her father, David Lynch, Jennifer Chambers Lynch courts criticism from feminists and prudes alike, but Boxing Helena is buoyed by one of the most unique set-ups in the history of independent film.
Julian Sands plays surgeon Nick Cavanaugh, a sort of Norman Bates for amputee fetishists, who is obsessed with ice-queen Helena (Sherilyn Fenn). When Helena is involved in a hit and run accident outside of his house, Nick is presented with his golden opportunity to possess the object of his desire: Helena's legs are mangled and Nick saves her life by amputating them. Afterwards, Nick keeps his beloved prisoner in his lavish home and attempts to court her throughout her recovery. However, even immobilized, Helena continues to taunt and torment Nick, reveling in his passivity and lack of machismo.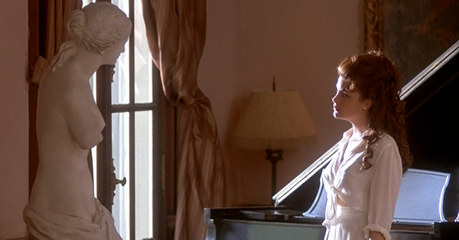 Jennifer Chambers Lynch's Boxing Helena (1993)
The film is far from perfect, although it's frustratingly difficult to pinpoint what exactly is wrong with it. Boxing Helena simply falls victim to a phenomenal and (still) shocking premise accompanied by an underwhelming script. Still, if you have a sick love of controversial films (as I do), you could do a hell of a lot worse than this stylized, oddball pick.