Scrapbook Magazine runs a competition every year to find the 'Scrapbooker of the Year' and I can announce I am a Runner-Up in this years competition.
Below is one of the three layouts I submitted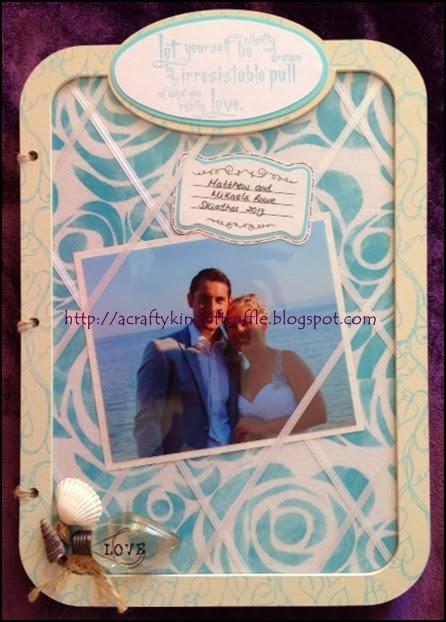 Love
This is the front cover of a scrapbook. I wanted it to look like the padded fabric notice boards you see in retro style kitchens.
Materials:
Tando List Board (CHLKBDLIST), 1 piece of 12 x 12 acetate, DecoArt SoSoft fabric paint D5579, DecoArt Americana Bleached Sand DA257, stencil 6" x 6" TCW 3715, thin white ribbon, American Crafts Journal Stickers book 'Remarks', PaperArtsy Eclectica 3 EDY01 stamps set, Prima Typo Bulbs #891527- Love, sea shells, natural hemp, smooth white Bazzill, turquoise Bazzill, glitter spot Bazzill, Sea Breeze Versa Magic, Stix2 Ultra Sticky double sided tape, Crafty Notions glue, journaling pen, some waste packing material,  thin chipboard or cardboard and old t shirt.
Tools:
Cropodile or similar, scissors, cut and dry, acrylic block, paint brush, cutting mat.

Instructions:

1. Paint the outer frame of the list board with two coats of Bleached Sand paint and leave to dry.

2. Take an old t shirt or piece of fabric and cut slightly larger than the list board. Using the stencil and fabric paint cover the fabric and put to one side to dry.3. Once the list board frame is dry cut the acetate to size and stick onto the inside of the frame creating a window effect. Measure and punch out the binding holes, these will be used as the guide for each subsequent layer.4. Using the sea breeze ink pad, randomly stamp the edge of the frame using the heart leaf vine.5. Again using the sea breeze ink pad stamp the sentiment onto smooth white Bazzill and cut to fit the oval part of the list board. Make a border in turquoise Bazzill and stick in place.6. Take some sea shells, hemp and a Prima bulb embellishment and glue in place to finish off the frame, put to one side.7. Take some packing material (or thin foam) and stick onto the list board this needs to be slightly smaller than the board.8. Once the stencilled fabric is dry place it on top of the packing material and secure at the back of the board using Ultra Sticky double sided tape.9. Cut lengths of ribbon and crisscross it over the fabric and secure at the back leaving just enough slack so that a photograph can slip underneath the ribbon.10. Cut the thin chipboard to fit the rear of the list board hiding all the fabric and ribbon ends and stick in place using Ultra Sticky tape.11. Make binding holes using the frame holes for positioning.12. Trim the photograph and mount onto the glitter Bazzill, now position under the crisscrossed ribbon to make it look like a postcard on a notice board.13. Using one of the journal stickers, mount onto turquoise and white Bazzill and cut out to the desired shape, add some faux stitching using a black journaling pen again position under the ribbon and use double sided tape if necessary to secure the position.

14. Finally stick the frame onto the fabric board and use hemp to bind the cover and subsequent pages.

The second layout can be found at The Craft Garden tomorrow and back here the third one can be found on the 2nd