New Scottish folk music tour launched in Glasgow!
New Scottish Trad Trail nights have just begun in Glasgow in a collaboration between Glasgow Music City Tours and Mharsanta Scottish restaurant on Bell Street in the Merchant City. Mr Foodie and Mr C went along to check out the tour, music and food on offer.
The event is a package of folk music-themed walk followed by live music and a two or three-course meal, at your leisure, at Mharsanta to bring Glasgow's folk music heritage history to life. The Scottish Trad Trail nights will be happening every Friday during the summer months.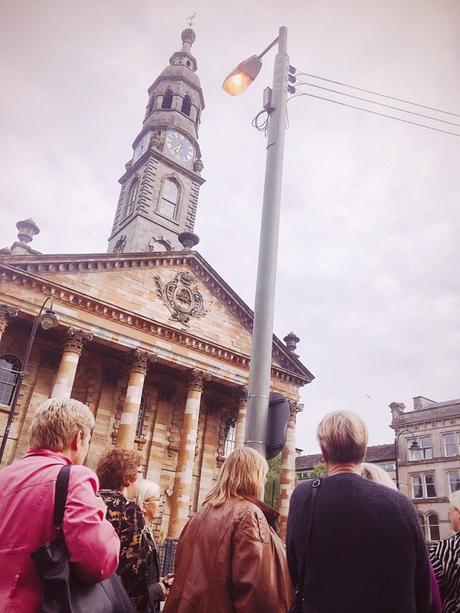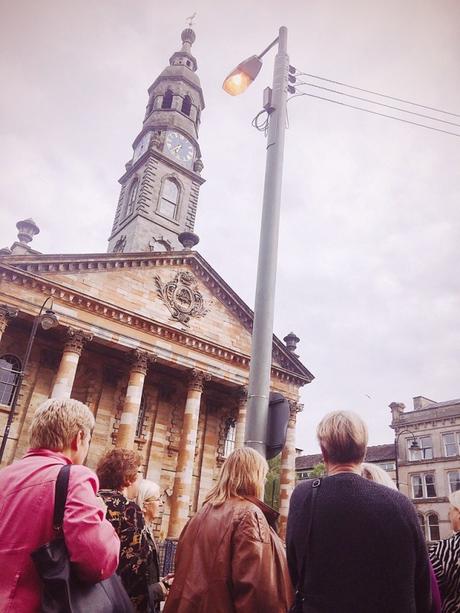 Our tour guide took us to some well-known and not so well-known locations around the oldest streets of Glasgow - we don't want to give too much away to spoil it but the walking is all outdoors and on flat streets. It would be nice if access to some of the venues was included but obviously being a Friday evening and due to the opening hours and potential closure of one of the venues this could prove difficult! We took part in the inaugural tour which will be tweaked over the coming tours to get it just right!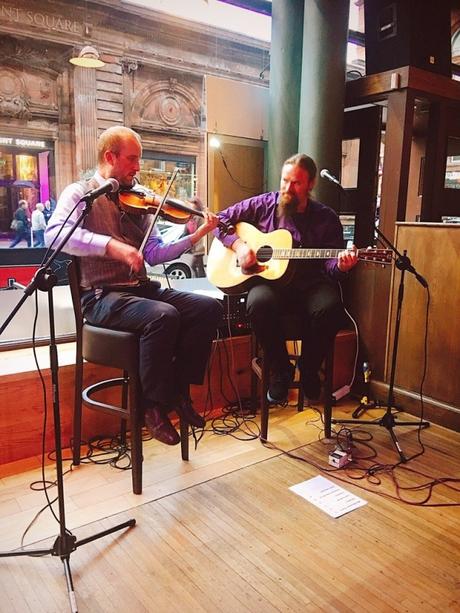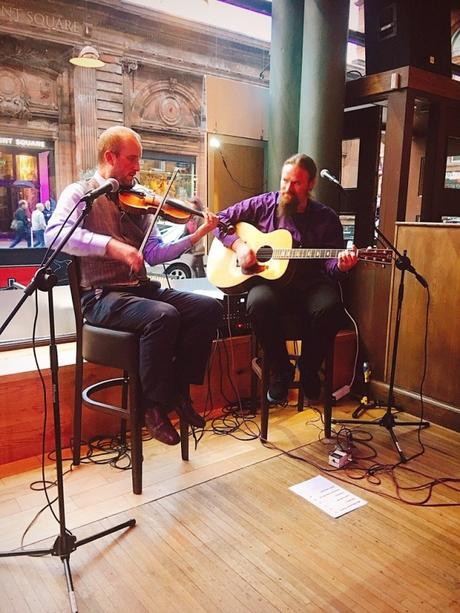 Don't worry if you're not the fittest, the area covered is only about a mile. We had good weather but being Glasgow taking an umbrella is a good idea! The tour takes just over an hour, returning to the start point for the last anecdotes of the day and then it's onto the food and live music!
The menu
The Trad Music Night Dinner Menu looks like this:
Homemade Soup of the Day served with Soda Bread
Wild Mushroom in a Garlic and Cream Sauce served on Toasted Soda
Bread (v)
Panko Crusted Chicken Goujons with a Sweet Chilli Dip
****
Fish 'n' Chips - Fresh Peterhead Haddock served with Homemade
Chips and Tartare Sauce
Haggis, Neeps and Tatties served with a Whisky Cream Sauce
(vegetarian option available)
Mharsanta Steak and Sausage Pie - Traditional Scottish Pie served
with Hand Cut Chips and Seasonal Vegetables
Halloumi Burger - Hand Battered Halloumi Burger with Lettuce,
Tomato and Mayonnaise served with French Fries (v)
****
Selection of Equi's ice cream
Homemade Cheesecake of the Day
Sticky Toffee Pudding served with Equi's ice cream
Our food
We picked...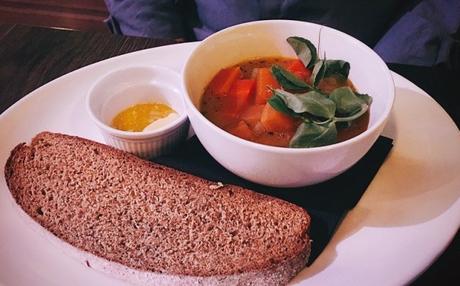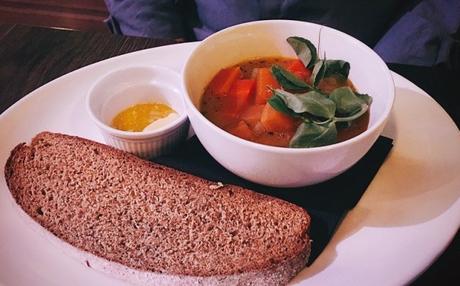 Summer veg soup
Homemade summer vegetable soup with soda bread. Hearty, filling soup, without being too heavy-going considering the recent good weather. Perfectly seasoned so no need for any added salt or pepper. The soda bread was warm, light and perfect for dipping.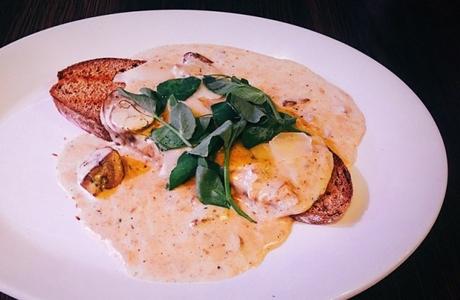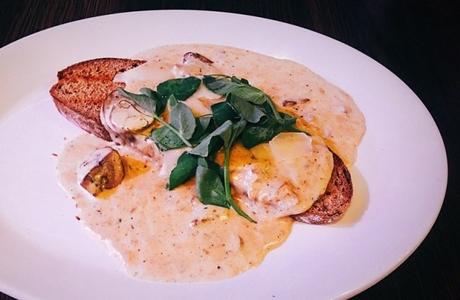 Wild mushroom in garlic and cream with soda bread
Like a Scottish version of bruschetta! A mix of sliced mushrooms in a creamy sauce. Not too much to be said really, it was earthy, rustic and filling.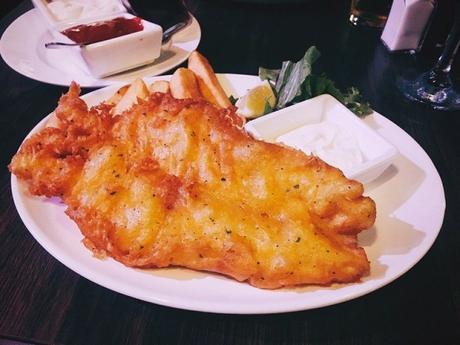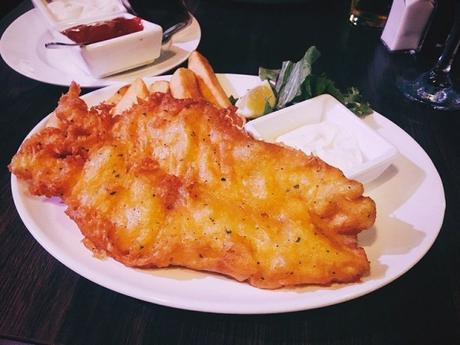 Peterhead haddock
Fresh flaky meaty fish in a crisp batter served with chunky chips, tartare sauce and a side salad. A big filling tasty portion of chips but sadly for Mr Foodie no peas!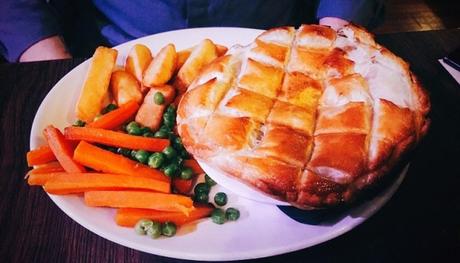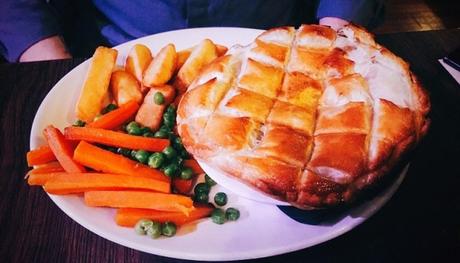 Steak and sausage pie
Served with hand cut chips, and seasonal vegetables. Mr C's favourite course. Perfect pastry, crisp and flaky on the outside, moist inside. A filling of tender steak chunks, sliced sausage, peas and gravy. The flavour of the sausage was pretty subtle as the slices weren't too thick nor was the gravy too rich. Arrived piping hot! Hand cut chips were nice and chunky, carrots firm and crunchy as we like.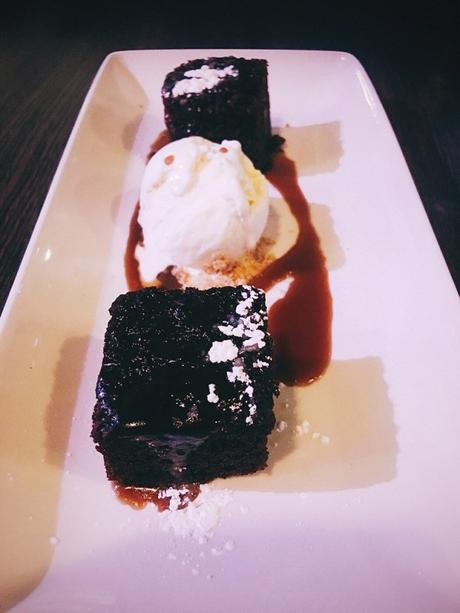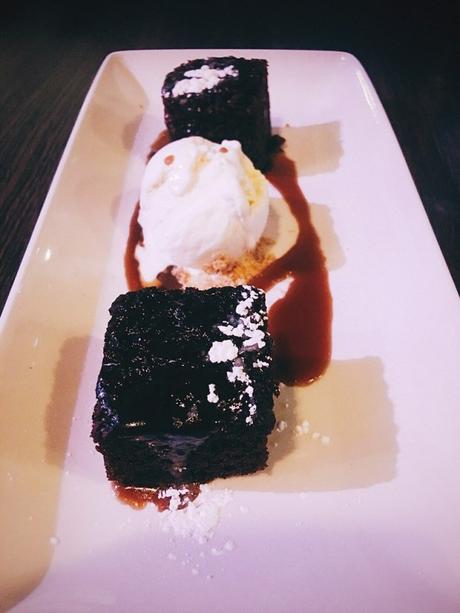 Sticky toffee pudding
Just a damn fine sweet sticky toffee pudding!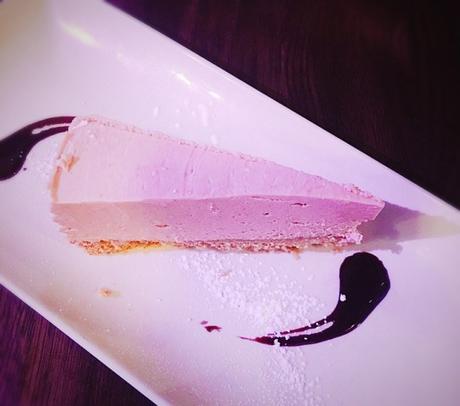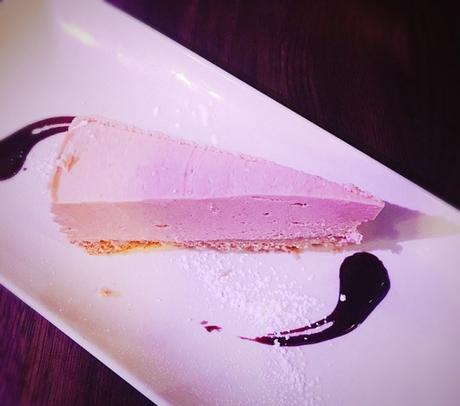 Raspberry Cheesecake
Homemade Cheesecake of the Day, which was Raspberry. Not a bad sized slice. Tasty and light. Base nice and crumbly, thumbs up! 👍
Where
Mharsanta,
26 Bell Street,
Glasgow
G1 1LG
When
The Scottish Trad Trail started on Friday 17th May and will run every week until 27th September starting 6 pm.
Tickets
Tickets are £34.50 for a two-course dinner and £39.50 for a three-course dinner. Both include the tour and live music.
Reservations
Mharsanta Reservations
Follow us on Instagram, Facebook and Twitter ❤️
Join our Facebook Group Glasgow Foodies and share your reviews, tips of where to eat and drink, new places and old places you 💕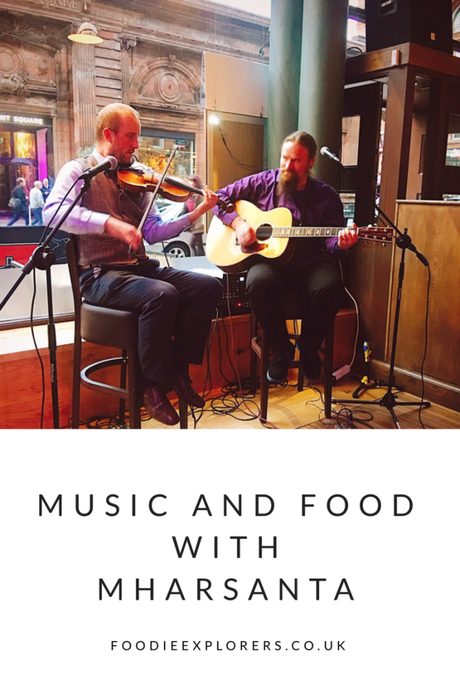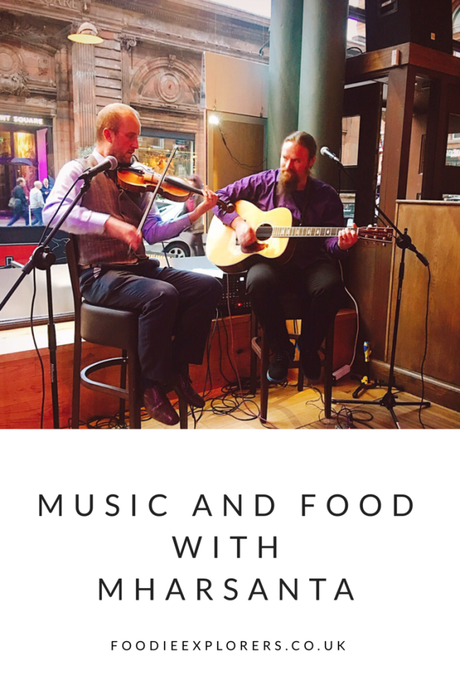 Disclaimer: Fred sez his hoomins received a free walking tour and dinner to publicise the new partnership cos, not every cat knows about it yet!