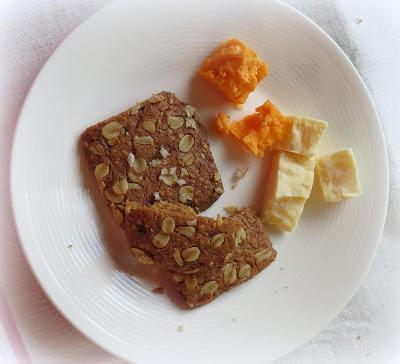 I've been enjoying a series called "Martha Bakes" in bed at night on the iPad.  Its on Netflix  She has several students from Culinary schools there with her as she shares some lovely baking recipes, hints and tips with the viewer.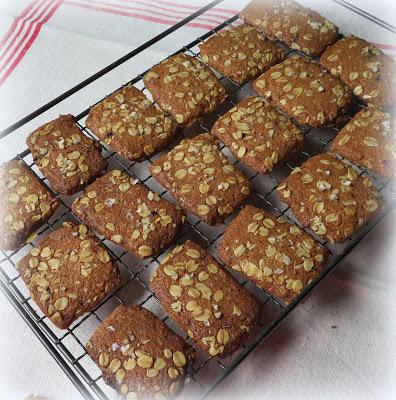 There are thirteen episodes covering everything from fruit curds, to doughnuts . . .  ganache, frangipane, sponge cakes, white bread, cookies, pizza dough, one bowl desserts, layered yeast dough, pastry cream, French meringue and press in crusts.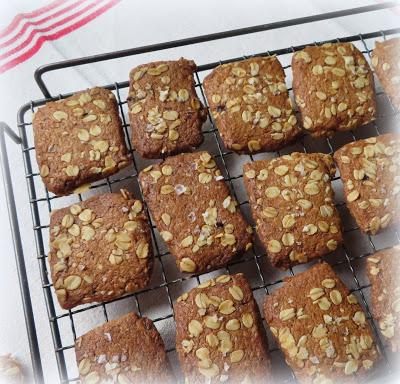 I think I am on episode 10 now, and when I am finished watching them all, I am going to go back and watch them again!   I think they are just great!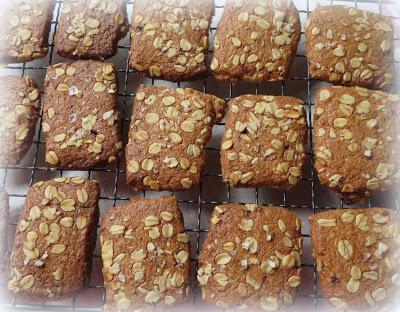 The other night I watched her make these Scottish Oat Cakes and I was instantly transfixed . . . if it hadn't been the middle of the night, I would have been down in the kitchen baking them right then and there!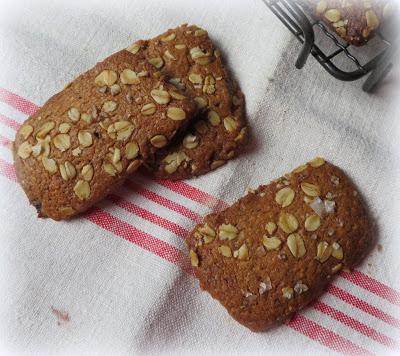 They looked and sounded delicious!  And so, today  . . . I decided to bake them.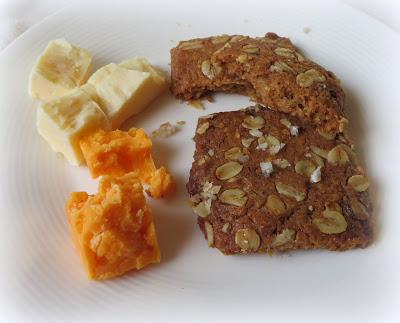 Oh boy, oh boy . . . oh boy.  Are these ever good!!  I am in love with them!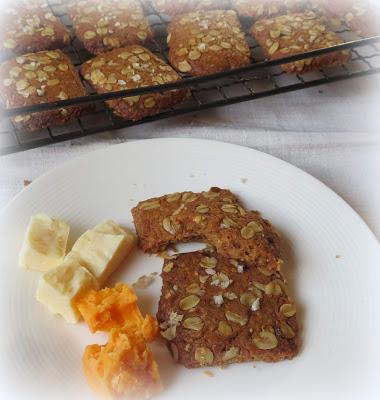 The dough is done completely in the bowl of a food processor.  I am sure you could also  do them by hand, but it would be hard to grind the oats unless you have a spice/coffee grinder.  It is a dampish somewhat sticky dough, but not overly hard to handle.  Especially once it has been chilled in the refrigerator.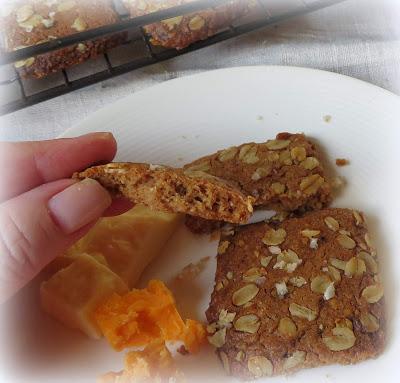 Do
pat it out in a rectangle and wrap in cling film before you chill it.  It will be much easier to roll out if you do this.  The dough is made from flour, large flake Scottish oats, unsalted butter, brown sugar, sea salt and coarse black pepper.  You toast the oats before grinding them to a flour.  This makes them taste even nuttier.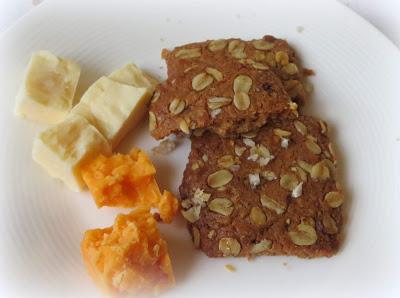 Once chilled you roll the dough out to a larger rectangle, having sprinkled the top with more oats.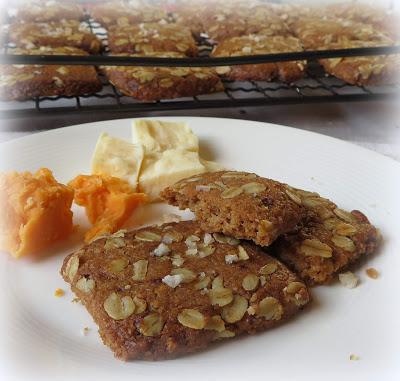 A final sprinkle of flaked sea salt, they are then cut into small rectangles and baked in a moderate oven . . .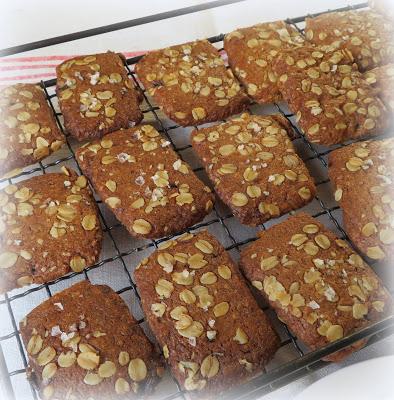 I was tempted to cut them out with my rectangular cookie cutter, but resisted and left them rustic looking.  I am glad I did, they hold a certain charm . . .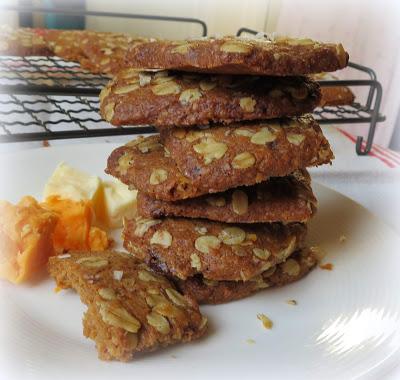 The end result is something incredibly moreish . . .  INCREDIBLY . . . edibly moreish!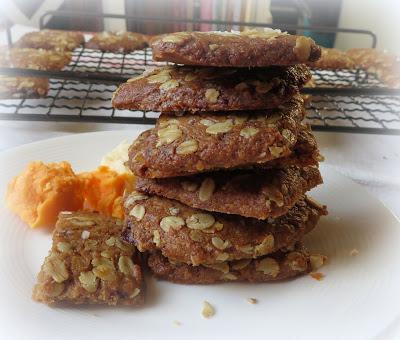 We enjoyed some today (Tuesday) for lunch with cheese and were both in Oat Cake Heaven.  If you have never made oat cakes before, or if you have and been disappointed, do bake these.  You won't be sorry!
Yield: makes 32 crackers
Author: Marie Rayner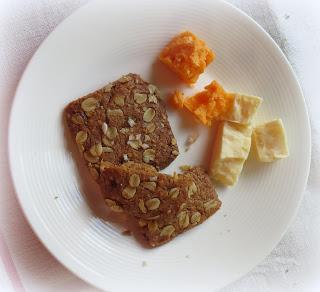 Scottish Oat Cakes
prep time: 1 hour
cook time: 30 mins
total time: 1 hours and 30 mins
Moreishly oaty.  Crisp and delicious.
ingredients:
60g of old fashioned oats (3/4 cup)150g soft light brown sugar (3/4 cup, packed)1/2 tsp freshly ground black pepper210g plain flour (1 1/2 cups)3/4 tsp coarse salt180g unsalted butter (3/4 cup) cut into small pieces3 TBS cold waterflaked sea salt
instructions:
Preheat the oven to 180*C/350*F/ gas mark 4.  Spread
40g/1/2 cup of the oats on a baking sheet.  Toast in the oven for 8 to
10 minutes, until golden brown and fragrant. Let cool, then pop into a
food processor and blitz until finely ground.  Add the flour, sugar and
coarse salt.  Pulse to combine completely.  Drop in the butter. Pulse
again until the mixture resembles coarse meal.  Add 2 TBS of the water,
pulse, and then pulse, whilst adding the remaining water, until the
mixture forms a soft dough.  (You may need additional water.)
Shape
 into a rectangle, wrap in plastic cling film and chill for 45 minutes.
Transfer to baking parchment and sprinkle with the remaining oats. Roll
out  to  rectangle approximately 10 by 12 inches in size.  Cut into 32
rectangles (2 1/2 inch by 1 1/2 inch) using a sharp knife or fluted
cutter. Sprinkle with the flaked sea salt. Transfer to a  baking sheet,
leaving 1 inch space in between each.
Bake for 28 to 30 minutes until golden brown.  Let cool on a wire rack and store in an airtight container.
Created using
The Recipes Generator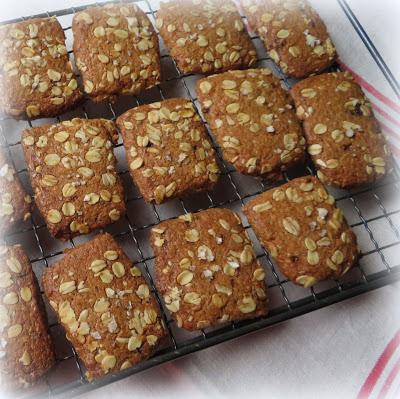 I think I am going to have to put these under lock and key so that I leave them alone!  They are that good!  Oaty, crisp, buttery, slightly sweet, but also savoury.  They are fabulous!  What a way to start the year!  Bon Appetit!