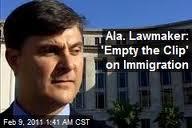 A complaint from gunloons is often along the lines of "hey, I'm not a racist."
Or, "hey, I'm no kook."
Ladies and Gents--meet Scott Beason (R-AL).  Beason, like so many GOPers, proudly wears his support of the NRA.
Beason made headlines a while ago, when in the immediate aftermath of the shooting of Rep. Gabrielle Giffords, Beason urged fellow Republicans to "do what has to be done" and "empty the clip" of their guns into illegal immigrants to "solve the problem" before immigrants could have children because "[when immigrant] children grow up and get the chance to vote, they vote for Democrats.
Kooky and racist enough for ya?
As the infomercial says--"But wait!!  There's more!!"
During an FBI probe into votes for campaign contributions, Beason was taped calling black people "aborigines."
Now, let's have a little thought exercise.  Suppose, say, a Nancy Pelosi was on record as saying immigrants should be murdered so to prevent immigrant children from voting for the GOP.  And let's suppose she also called blacks "aborigines."  Does anyone doubt there'd be a backlash from groups like the NAACP  and other liberal organizations?  Of course there would be.