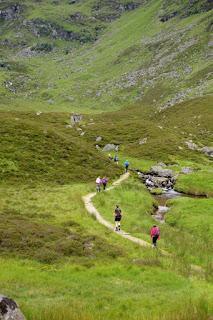 Copyright Lorne Gill/SNH
A new tube-style map, showing paths where walkers and cyclists can link up routes throughout Scotland, has been published by Scottish Natural Heritage (SNH).
With just a quick look, users can see both existing routes across Scotland and planned routes which will link to even more paths, cities and places of interest in the future. Walkers and cyclists can also easily see that, for example, they can journey off-road on paths from Mull of Galloway to Inverness via Glasgow, from Berwick-on-Tweed to Dundee via Edinburgh, and from Helensburgh to St Andrews via Linlithgow. There are even canoe trails to view. 
The map is part of National Walking and Cycling Network's (NWCN's) ambitious programme of work to connect Scotland's paths across the country. SNH's key partners in the project are Scottish Canals and Sustrans, working closely with local authorities and route managers. 
Right now, there are about 6400 kilometres of trails for walking, cycling, horse-riding and canoeing across Scotland. This includes Scotland's Great Trails, the National Cycling Network & The Scottish Canals Network. NWCN plans to extend this network by 1750 kilometres through 50 separate projects over the next 20 years, by creating new routes and joining up the missing links. 
SNH chairman, Ian Ross, said:
"Our walking and cycling tube map is an easy way to start planning your next journey – whether it's a trip between two towns or a week-long cycling or walking holiday. Scotland is such a wonderful place to walk and cycle. It's easy to take for granted how many paths we already have in so many beautiful areas, and I'm thrilled that we'll have even more paths to enjoy in the coming years."
The tube map, as well as more information about the National Walking and Cycling Network, is available at http://www.snh.gov.uk/enjoying-the-outdoors/where-to-go/routes-to-explore/walking-and-cycling-network/
The NWCN will build on existing networks of paths and trails by closing key gaps, upgrading connecting routes, encouraging multi-use of paths and linking with public transport. 
The NWCN initiative is one of the ways the Scottish Government is aiming to achieve its 2020 Biodiversity Challenge goals. These goals include increasing participation in outdoor recreation to improve the health and quality of life of the people of Scotland.