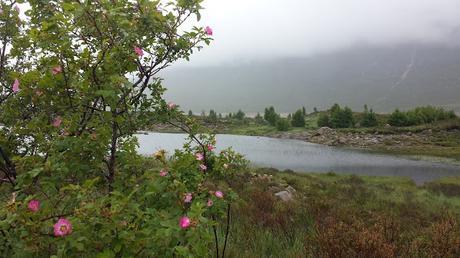 Loch Lochy, the Highlands, Scotland
After an exciting experience it is not easy to go back to your everyday life. After a journey, you download, order and archive the pictures you've taken and look at your travel notes: all those beautiful moments flew at the speed of light and left you astonished,  with beautiful memories but also the awkward impression that you dreamt and have just woken up. Maybe writing can help you fix them somewhere in a safer place and make them somehow more real.
Scotland, at last!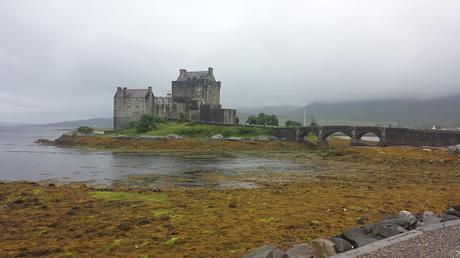 Eilean Donan Castle 
Scotland is the 3-M land: the land of magic, mist and myth. How could one resist its charms? I simply couldn't.  Last year, after
a very brief visit
,  I had to promise myself I would soon go back to see more of it. I did it in July and here I am,  back from an incredible tour,  which has been as magical, misty and mythical as Scotland in my dreams.  In our 10-days' schedule an unforgettable series of fantastic sites, a variety of wonderful places, which I had the opportunity to visit  in the company of four of my anglophile friends.
One of the themes of our  tour was Outlander, the best-selling saga set in Scotland written by Diana Gabaldon,  as well as its TV adaptation.   We managed to visit a few of the main locations they used in seasons one and two or important sites mentioned in the books.
Did we have a good time? You can bet on that! We had a very busy schedule but managed to achieve most of our goals, so we always went to bed a bit tired but greatly satisfied.  We wandered the Highlands both hiking and driving, we crossed the bridge to the Isle of Skye, we sailed north to the Isles Harris and Lewis, we danced among standing stones and tried to check if any inviting buzz came out of any of them (still laughing), we tasted porridge, black pudding and haggis, we got wet to our bones while climbing a peak and sun-tanned (well, sort of) on amazing white beaches or on the edge of dramatic cliffs, we met majestic stags and watched salmon jump out of waterfalls, we sang on the bonny, bonny banks of Loch Lomond and delivered Shakespeare's "to be or not to be" soliloquy at Dunnottar (one of the locations for Zeffirelli's Hamlet with Mel Gibson).  It's been a hyper-trip: we laughed a lot, walked a lot, drove and sailed for miles and miles,  ate a lot, took thousands of pictures. To write about everything we saw and did would deserve a series of posts, not just one. Will you forgive me for picking up a few of my favorite places or moments and sharing just those with you?  
The Isle of Skye:  The Old Man of Storr & a real Scottish shower

The Isle of Skye - Dunvegan Castle & Gardens
The first thing that comes to my mind is a funny, weird moment on the Isle of Skye. I've never got  as soaked as while climbing up the Old Man of Storr.  A real Scottish shower! What would a real Scot do in that case? Well, go on climbing, of course. Could we be any less? Nope. And was our stubborn effort under a deluge rewarded? Nope. The ancient rocks were wrapped in the mist. We couldn't even take a good picture. Moreover, our cameras risked to be ruined forever by the damp. Disappointed, we had to go back and change our drenched clothes in the car, laughing and giggling. We, then, wished we may be luckier in the following stops of our journey. 
The most interesting site we visited on Skye was
Dunvegan Castle
 with its fascinating history and stunning gardens.
Outlander Locations: Midhope, Doune Castle, Culloden  

Midhope aka Lallybroch 
Lallybroch, Castle Leoch and Culloden are familiar names to
Outlander
fans. After Gabaldon's books were adapted for the TV screen by Starz, Jamie Fraser's house, Lallybroch,  has had the sturdy shape of
Midhope
.  Castle Leoch, the MacKenzies' fortress, has instead gained the proud medieval atmosphere of
Doune Castle
.  

Two of my pictures of Doune Castle and a scene from Outlander season one with the castle in the background
Culloden
 is not any more a distant, plain spot connected to an unfortunate battle in a useless war you rarely happen to study on school textbooks   (if you are not Scottish),  but a place you enter with your heart in turmoil and your mind filled with the images of  a tragic, avoidable slaughtering.

Three of my shots taken at Culloden and a scene from the finale of  Outlander season 2 (Claire visiting the Fraser Grave)
Rogie Falls

Hiking at the Rogie Falls 
Not far from Inverness, after a short walk through a beautiful forest,  the Rogie Fallswelcome you with their powerful, thundering voice. You can spend time salmon watching on the suspended bridge or cross it and go on hiking through the woods around the falls.  Beware of very slippery paths You know, truth is Scotland may be the 4-M land: magic, mist, myth and MUD!
Abbeys & Churches 

Melrose Abbey - Elgin Cathedral 
My friends and I have a real fascination for ruins and,  due to Henry VIII,  there are plenty in the UK. His Protestant Reform (1534),  his violent strategy to disroot Catholicism and the power of the Church of Rome in his kingdom,  involved robbing, sacking and burning down monasteries, cathedrals and nunneries, as well as chasing and terrorizing  monks, priests, friars and nuns,  that is why Britain is rich in that type of heritage.  Scotland itself has kept and preserved several of those sites. 
Melrose Abbey, Elgin Cathedral, Dunkeld Cathedral, St Serf's and the Dupplin Cross
were the most charming in our schedule. 
The Kelpies

To see them appear from the motorway, while driving North after landing at Edinburgh airport,  was   a truly eerie experience. Shimmering against the sky and among trees in all their evocative power and silvery majestic allure,  the Kelpies had us promise we would pay them a proper visit on our way back to Glasgow airport at the end of our journey. Impressive. 
The Lochs

Loch Lubnaig, Loch Lochy, Loch Lomond, Loch Ness
The gaelic word loch is used to describe any large, enclosed expanse of water,  including those coming in from the sea (in English fiords or fjords).  I'm not an expert in Gaelic but, after 29 episodes of Outlander, I know that the "ch" at the end sounds like the German "ch" in "achtung".  Scotland's lochsare sparkling blue jewels nestled in a luxurious kingdom of greens and forests. Did you know they are 31, 000? That's an astonishing number. We saw many but less, definitely less,  than the total.  Among them Loch Lomond, Loch Ness, Loch Lochy, Loch Lubnaig.
The Castles

Eilean Donan Castle, Dunnottar Castle, Castle Fraser, Kilchurn Castle
My friends and I prefer ruins of very ancient castles to perfectly restored and refurbished giant ones.  The more ruined and solitary they are, the more charming they are to us. Among them
Dunnottar
and its dramatic location by the sea,
Kilchurn Castle
on its little rocky peninsula at the northeastern end of Loch Awe,
Urquhart Castle
beside Loch Ness in the Highlands,
Stalker Castle
located 25 miles north of Oban on the west coast of Scotland
, and 
Duffus Castle
near Elgin.
The Isle of Harris-Lewis  

Lewis, Calanais Standing Stones, Carloway Broch, Gearannan Black House Village
Lewis is the farthest place I've sailed North-bound in my life and, certainly,  it is the most beautiful area we visited in our journey. It is the largest and most northern island in the Outer Hebrides with the best prehistoric sites in Scotland and some fabulous white beaches.
 We were blessed with a couple of sunny days while staying in Reef and visiting Calanais Standing Stones, Carloway Broch, Gearannan Black House Village and the Butt of Lewis. It was awesome.
Uig  beach at sunset, between 10 and 11 p.m.,  will remain unforgettable.

(all the pictures in this post were taken with my not new and neither very sophisticated mobile phone)