Scorpio is ruled by Mars. On the mundane planes, the Martian principle is related to blood, fight and conflicts. In the East, the sublime aspect of Mars is visualised as Kumara, the 'I AM' consciousness (This is explained in the book 'Mars. The Kumara' by Dr. K. Parvathi Kumar). We can visualise the Kumara as light emerging from our center into six directions – east, west, north, south, above and below. The six-armed cross represents the six dimensions. He is described as an eternal youth of sixteen years. He holds a spear, as a powerful celestial weapon. We can identify with it as the energy inside our cerebro-spinal column piercing through the lower nature.
The Kumara constitutes the axis of Taurus-Scorpio around which the zodiac is formed. Taurus is ruled by Venus and Scorpio by Mars. The masculine energy of Mars in association with Scorpio kills the evil and gives birth to the serpent of wisdom. The feminine qualities of Venus soften the masculine quality of power and bring about beauty.
To depict this symbolism I transformed the image of a statue of the Kumara holding the spear. I constructed the radiant six-armed cross emanating from the center. I put it at the center of a ring galaxy (photo by NASA). Behind the Kumara I placed a red rose forming the reddish aura as a symbol of the beauty aspect of Venus. The stem of the rose is fused with the vertical axis. I transformed its leaves into a serpent-like form on which the Kumara is standing.
See more pictures on the site with my paintings. If you want to print the image, you can download the file in medium and high resolution format.
The different zodiacal signs are clustered in groups – you can see here all my Scorpio paintings.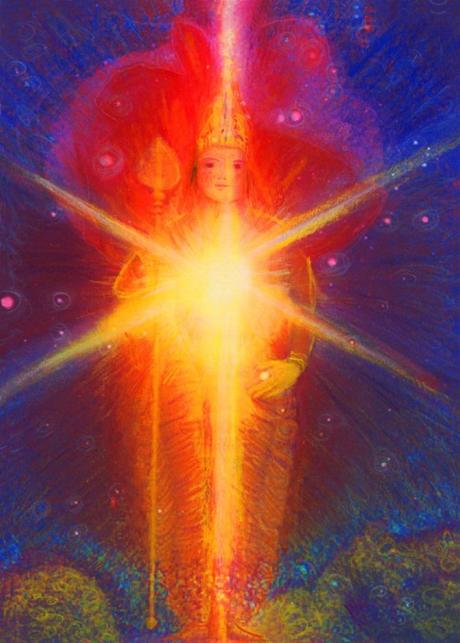 18 July 2016, pencils and photo work