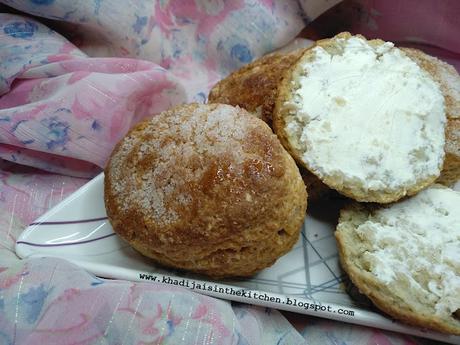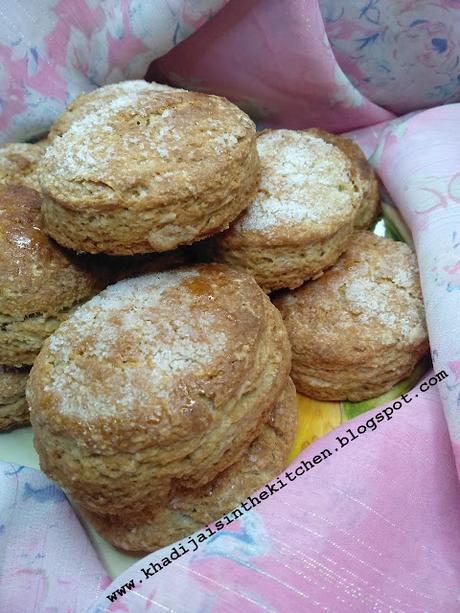 RECETTE / RECIPE / RECETA /  الوصفة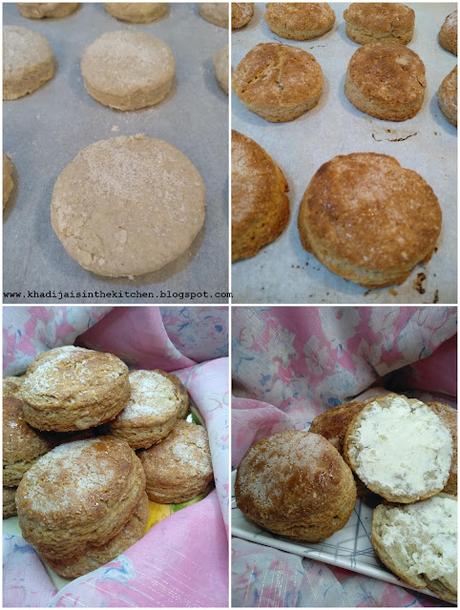 SCONES À LA CANNELLE
INGRÉDIENTS 
120 ml de lait d'avoine
100 g de yaourt (arôme de votre choix)
350 g de farine tout usage
2 cuillères à café de levure pâtissière
¼ cuillère à café de bicarbonate de soude
80 g de sucre semoule
½ cuillère à café de sel
½ cuillère à café de cannelle
100 g de beurre non salé froid
Un peu de sucre semoule pour en saupoudrer les scones
MÉTHODE DE PRÉPARATION
1- Dans un petit bol, mélanger le lait et le yaourt et les mettre au réfrigérateur jusqu'au moment d'utilisation.
2- Dans un grand bol, mélanger la farine, la levure pâtissière, le bicarbonate de soude, le sucre, le sel et la cannelle.
3- Ajouter le beurre froid coupé en morceaux et mélanger jusqu'à ce que le beurre soit couvert de farine.
4- Ajouter le lait et yaourt et mélanger avec une spatule. Ne pas trop mélanger.
5- Fariner légèrement une surface de travail. Transférer la pâte. Abaisser la pâte à l'aide d'un rouleau à pâte et en couper des disques.
6- Disposer les scones sur une plaque à pâtisserie chemisée de papier parchemin. Les saupoudrer de sucre semoule. Cuire au four pendant 25-30 minutes à 350 degrés Fahrenheit. Laisser refroidir complètement sur une grille.
*****************************************************
CINNAMON SCONES 
INGREDIENTS 
120 ml oat milk
100 g yogurt (flavour of your choice)
350 g all-purpose flour
2 teaspoons baking powder
¼ teaspoon baking soda
80 g caster sugar
½ teaspoon of salt
½ teaspoon of cinnamon
100 g cold unsalted butter
A little caster sugar to sprinkle over the scones

HOW TO
1- In a small bowl, mix the milk and yogurt and place them in the fridge until needed.
2- In a large bowl, mix flour, baking powder, baking soda, caster sugar, salt and cinnamon.
3- Add the cold butter cut into pieces and toss until the butter is covered with the flour.
4- Add milk and yogurt and mix with a spatula. Do not over mix.
5- Lightly flour a work surface. Transfer the dough. Roll out the dough with a rolling pin and cut into disks.
6- Arrange scones on a parchment-lined baking sheet. Sprinkle with caster sugar. Bake for 25-30 minutes at 350 degrees Fahrenheit. Let cool completely on a wire rack.
*****************************************************
SCONES DE CANELA 
INGREDIENTES
120 ml de leche de avena
100 g de yogur (con el sabor que desee)
350 g de harina blanca
2 cucharaditas de polvo de hornear
¼ de cucharadita de bicarbonato de sodio
80 g de azúcar en polvo
½ cucharadita de sal
½ cucharadita de canela
100 g de mantequilla sin sal fría
Un poco de azúcar en polvo para espolvorearlo sobre los scones.
ELABORACIÓN
1- En un tazón pequeño, combinar la leche y el yogur y ponerlos en la nevera hasta el momento de uso.
2- En un tazón grande, mezclar la harina común, el polvo de hornear, bicarbonato de sodio, el azúcar, la sal y la canela.
3- Agregar la mantequilla fría cortada en trocitos y revolver hasta que la mantequilla se cubre de harina
4- Agregar la leche y el yogur y revolver con una espátula. No mezclar excesivamente.
5- Enharinar ligeramente una superficie de trabajo. Transferir la masa sobre la superficie de trabajo. Extender la masa con un rodillo y cortarla en discos.
6- Colocar los scones sobre una bandeja de hornear cubierta con papel pergamino. Espolvorearlos con un poco de azúcar en polvo. Hornear durante 25-30 minutos a 350°F. Dejar enfriar completamente sobre una rejilla.
*****************************
خبز السكونز بالقرفة
المكونات
120 مليلتر من حليب الشوفان
100 غرام من الياغورت (نكهة من اختيارك)
350 غرام دقيق ابيض
ملعقتان صغيرتان خميرة الحلوى
¼ ملعقة صغيرة من بيكاربونات الصودا
80 غرام من حبيبات السكر الابيض الخشن

½ ملعقة صغيرة من الملح
½ ملعقة صغيرة من القرفة
100 غرام زبدة غير مالحة باردة
قليل من حبيبات السكر الخشن الابيض ليرش فوق خبز السكونز
طريقة التحضير

1- في وعاء صغير، يخلط الحليب والياغورت ويوضع الخليط في الثلاجة الى حين الاستعمال.
2- في وعاء كبير يخلط الدقيق وخميرة الحلوى و بيكاربونات الصودا والسكر والملح و القرفة.
3- تضاف الزبدة الباردة مقطعة الى اجزاء صغيرة و يواصل خلط العناصر الى ان تصبح الزبدة مغطاة بالدقيق.
4- يضاف الحليب والياغورت و يخلط الكل بملعقة. لا يجب الخلط كثيرا.
5- يرش بعض الدقيق فوق سطح العمل ثم ينقل اليه العجين.يفرد العجين بواسطة مدلك ثم يقطع الى أقراص.
6- توضع الاقراص فوق صفيحة مغطاة بورق الزبدة. ترش بقليل من حبيبات السكر الابيض الخشن. يخبز السكونز مدة 30-25 دقيقة فى فرن حرارته 350 درجة فهرنهايت. يخرج السكونز من الفرن و يترك ليبرد فوق شبكة حديدية.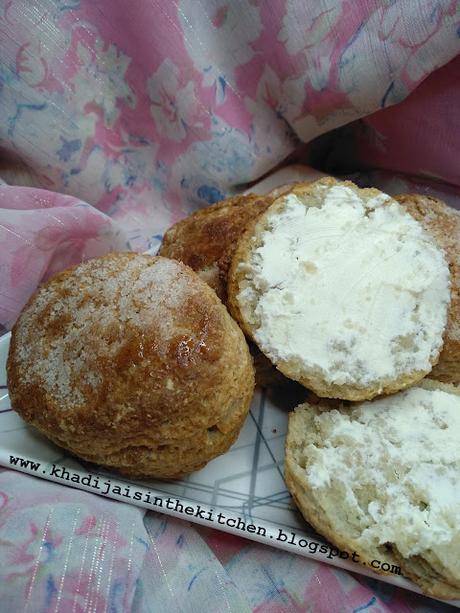 Autres recettes de scones / Other recipes for scones / Otras recetas de scones / وصفاب سكونز اخرى:
SCONES À L'ORANGE / ORANGE SCONES / SCONES DE NARANJA / خبز (السكون) بالبرتقال
SCONES AUX CERISES ET À LA LIME /CHERRY LIME SCONES / SCONES DE CEREZA Y LIMA
*********************
Hope you'll enjoy!!
*********************
Merci de votre visite / Thank you for your visit /Gracias por su visita/ شكرا على زيارتكم
Pour d'autres idées de cuisine / For other cooking ideas / Para otras ideas de cocina / من اجل افكار اخرى للطبخ : Facebook, Instagram , Pinterest