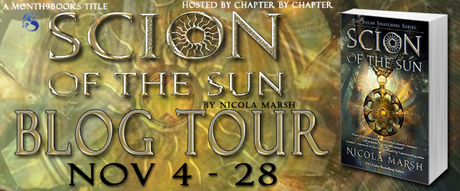 I received this book for free from chapter-by-chapter.com in exchange for an honest review. This does not affect my opinion of the book or the content of my review.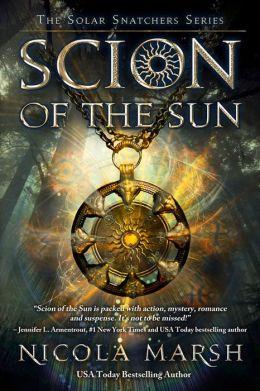 Scion of the Sun
by Nicola Marsh
Series:
The Solar Snatchers
Published by
Month9Books on November 5, 2013
Genres:
Fiction, Romance
Pages:
377
Format:
eBook
Source:
chapter-by-chapter.com
Goodreads

When she least expects it, sixteen-year old Holly Burton's unremarkable life is shaken to the core. A vision of the mother Holly never knew leaves her questioning everything she believes.
 
Eager for answers, Holly enrolls at a boarding school for highly gifted students in Wolfebane, New Hampshire. But things will get worse before they get better, as Holly accidentally transports to a parallel existence where she's confronted by a dark and ancient evil.
 
With the help of Joss, a sexy alpha warrior sworn to protect her, and her new BFF, the equally swoon-worthy Quinn, Holly faces her fears and an unlikely adversary in a showdown that is worse than anything she could've possibly imagined …
 
I really enjoyed this book. I think it was a good coming of age book for the main character Holly. Holly is forced to open her mind and herself to a whole lot of new things when she starts to develop special talents. Holly is also used to being an outcast in her past life, a very book smart nerd so to speak. I liked the fact that at her new school C.U.L.T. she is befriended by 2 people and she learns to open up to them and to have some fun. But then there is the whole new side that her talents bring into focus with the Sorority, where she is forced to be the one who is foretold to save the world from evil. With the Sororiety she also makes new friends, along with developing a special relationship with her 'Warrior Boy'. Its nice to see Holly come out of her shocked 'this isn't happening' shell and stepping up to take on the role she was destined for. The book is pretty fast passed and will keep your interest to see the mystery of who or what Arwen is and how they need so save it. I highly recommend this book if you like a bit of action and adventure with your romance.
NICOLA MARSH BIO:
USA TODAY bestselling author Nicola Marsh writes flirty fiction with flair for adults and riveting, spooky stories for teens.
She has published 43 contemporary romances with Harlequin, Entangled Publishing and indie, and sold over 5 million copies worldwide. Her first mainstream romance BUSTED IN BOLLYWOOD was nominated for Romantic Book of the Year 2012. Her first indie romance, CRAZY LOVE, was a 2012 ARRA finalist.
Her debut young adult novel, a supernatural thriller BANISH, released with Harlequin Teen August 2013, and her YA urban fantasy series kicks off with SCION OF THE SUN, November 2013, with Month9Books.
She's also a Waldenbooks, Bookscan and Barnes & Noble bestseller, a 2013 RBY (Romantic Book of the Year) and National Readers' Choice Award winner, and a multi-finalist for a number of awards including the Romantic Times Reviewers' Choice Award, HOLT Medallion, Booksellers' Best, Golden Quill, Laurel Wreath, More than Magic and has also won several CataRomance Reviewers' Choice Awards.
A physiotherapist for thirteen years, she now adores writing full time, raising her two little heroes, sharing fine food with family and friends, and her favorite, curling up with a good book!
Website: http://www.nicolamarsh.com/
Facebook: https://m.facebook.com/NicolaMarshAuthor?_ft_
Twitter: https://twitter.com/NicolaMarsh
a Rafflecopter giveaway
  <><><""""><><""""><><""""><><><""""""><><><><""""><>0  Name: Email: We respect your email privacyEmail Marketing by AWeber 

Signing you up!
Never Miss out on a post again!!!


Sign Me Up!


We hate spam just as much as you

Signing you up!
Never Miss out on a post again!!!

Sign Up Via Facebook!


We hate spam just as much as you

Signing you up!
Never Miss out on a post again!!!

Click Here for One Click Sign Up!



We hate spam just as much as you