The informal bushmeat markets of Lao PDR, Laos are filled with legal and illegal, wild game. These meat markets obviously provide protein to local patrons, but for wildlife biologists, these bizarre zoological exhibits offer much more.
In September 2012, a team from the National University of Laos surveyed markets in northern, central and southern Lao PDR for squirrels. In one of those (Ban village Thongnami, Pak Kading District, Bolikhamxai Province, central Lao PDR) markets, Master's student Daosavanh Sanamxay found something very interesting, a single specimen of a flying squirrel previously undescribed in science. The researchers described this newly discovered species in a 2013 Zootaxa publication, naming it; Biswamoyopterus laoensis or the Laotian giant flying squirrel.
The Laotian giant flying squirrel is the second record of the genus. Biswamoyopterus, the first one, was collected from a proposed biosphere reserve in Namdapha, Tirap District, Arunachal Pradesh, India in March–May, 1981 by Dr. Shyamrup Biswas of the Zoological Survey India. It was a unique flying squirrel and was subsequently described as a new genus and species, Biswamoyopterus biswasi Saha (1981), the Namdapha flying squirrel.
The new Laotian giant flying squirrel is also the first record of the genus from Southeast Asia.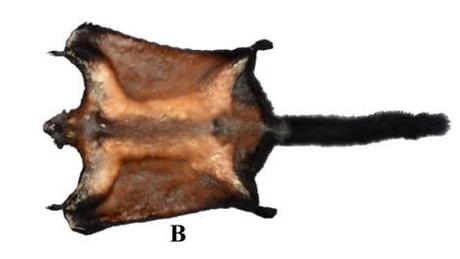 Underside view of the newly discovered Laotian giant flying squirrel. Photo courtesy of Sanamxay, Daosavanh; et al. Zootaxa 3686 (4): 471–481.
"We don't know how endangered this species is… During my second survey in the market, I found approximately 10 dead body of this species in the [freezers] of the sellers," said Daosavanh Sanamxay, lead author and current master's student at the National University of Laos.

 
To address the conservation of these seemingly rare flying squirrels Sanamxay poses that;
"First we must put more effort into surveying not only flying squirrels but also other wildlife in order to estimate the population in nature and compare it with the consumption rate. Moreover, we need to revise the law for wildlife in the country. Most squirrels, especially flying squirrels, are not included in the law."
The exact habitat of this new mammal is not known, but the researchers speculate that the habitat is not far from the market which is 5 km Southwest of Nam Kading National Biodiversity Conservation Area (NBCA). The area is heavily hunted and is home to other rare endemic rodents including the Kha-nyou (Laonastes aenigmamus), the only member of a rodent group thought to have died out 11 million years ago that was also discovered in a bushmeat market, and the Lao limestone rat (Saxatilomys paulinae).
Next time I'm at the market or butcher's shop, I'll definitely pay more attention.
N.