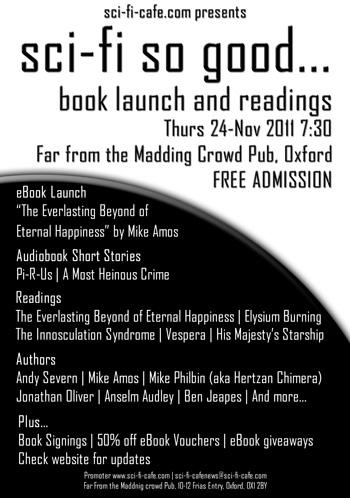 SCI-FI-CAFE
, run by my old computer-games-industry producer Andrew Severn, has republished three of my Hertzan Chimera returned-rights psycho-sexual novels and two new surrealist novels in Kindle format. Now, they've organised a special group reading evening at Far From The Madding Crowd in Jericho, Oxford called SCI-FI SO GOOD.
The preliminary line-up of Authors is
Andy Severn (I'll be reading some Elysium Burning and Reynolds-Moreton)
Mike Amos (Man of the hour)
Mike Philbin (See what Hertzan Chimera is like in the FLESH)
Jonathan Oliver (Reading from some of his work published by Abaddon)
Anselm Audley (Reading from Vespera)
Ben Jeapes (Reading from His Majesty's Starship)
And possibly more...
The event is set for 7:30 p.m. onwards on Thursday 24th November, from 7:30 p.m. until they kick us out. Rumour is the excellently-produced truly-haunting audibook version of The Most Heinous Crime will also be played at the event. I'll update this post nearer to the date but the poster (above) gives the majority of details, as of today's date.