Rapture Day, May 21st 2011, is the day that sci-fi-cafe's revamped BOOKSTORE chose to offer its readers a more apocalyptic brew:
CAFE NOIR
Strong, dark and uncompromising. These titles are not for the squeamish, and certainly not for the kids. Best read after dark, under the covers.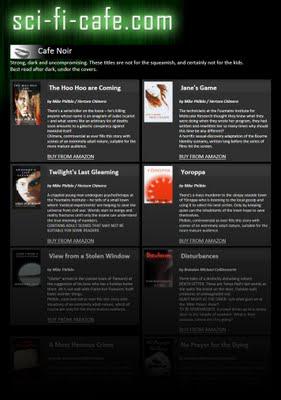 Currently, CAFE NOIR consists of my three re-published (Hertzan Chimera) horror novels "Jane's Game", "The Hoo-Hoo Are Coming" and "Twilight's Last Gleaming" and my two new novels mystery novels "Yoroppa" and "View from a Stolen Window" all in Kindle Exclusive format. Horror writers Brandon Michael Collinsworth and Dawn Cartwright also share this CAFE NOIR section.
The world didn't end, it just got a whole lot more terrifying.