Arnold Schwarzenegger recently sat down for an extended interview about the release of "The Last Stand" with AICN this week and the topic of "The Legend of Conan" came up.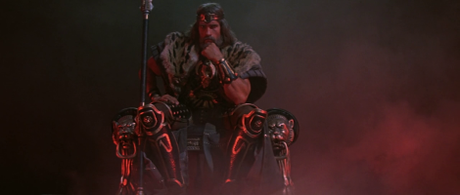 Arnie says the project is likely to begin filming later this year, possibly in New Zealand.
Producer Frederik Malmberg previously said the movie takes place several decades after the first two installments, Conan the Barbarian and Conan the Destroyer.  In the third Conan movie, the legendary barbarian nears the last cycle of his life and wants to go out with a good battle.
"[Universal] finally came forward and said, 'You're absolutely right. The previous leadership has missed the boat here. We want to pick it up. We're going to buy the rights and we're going to be serious about it and make a quality film with an A-director and with A-writers and so on." Schwarzenegger adds.

"And we want you to participate in this. We want you to star and you to play Conan. We're going to take a story where Conan is at that age so it's totally believable and it doesn't look like you're trying to be a 30-year old action guy.'"
Watch it here:
Celebrate here:
N.