10 A IEC Appliance Outlet Type F with integrated light pipes and V-Lock cord retention for smart PDUs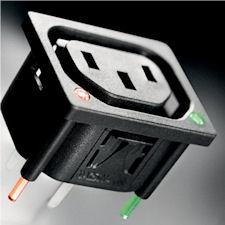 Schhurter improves upon a classic product: the new 6600-5 series IEC outlets are available with integrated light pipes. An intelligent, space and cost-saving solution for PDUs used in data
centers and other multi-distributed power applications.
The human need for information continues to expand at record pace, while continual advancements in information and communications technology (ICT), strive to keep pace with this demand. New data centers continually appear in the most unconventional of places to support this growing demand. These data centers are under constant pressure to improve upon efficiency and reliability under growing regulatory requirements to reduce energy use and cost. Meanwhile, the demand for reliable transmission with increased speed must keep pace. At the base of this modern day economic demand and supply phenomena is an intelligent, reliable power supply and - at the base of that - a simple connector. Schurter is pleased to introduce its IEC outlets with integrated light pipes, which bring a simple yet improved solution to intelligent power distribution.
Today, PDUs often use LEDs mounted in between outlets to display a current status. The high packing density of servers in modern data centers demands the same of power distribution units. With Schurter's appliance outlet, the integrated light pipes provide space and assembly cost savings over conventional strip designs. Service technicians are able to clearly see which systems are working properly, or respond to required maintenance adjustments. The triggering of the LEDs is freely configurable, wherein each state can be clearly and independently represented. An outlet could, for example, signal an outage with a red LED, or a critical power consumption pattern with a yellow LED.
Optionally the SCHURTER 6600-5 is also available with only one or without light pipe.
In order to prevent against unintentional removal of a power cord, the new sockets offer a pull-out safety device. Depending on the arrangement of the sockets in the bar (horizontally or vertically) the Schurter V-Lock or other cord retention systems with side latches can be used. Both systems are possible with outlets the 6600-5.
The outlet's snap arms are currently designed for front panel dimensions of 1.7 or 2.0 mm. Versions for 1.0, 1.5 and 2.5 mm will follow shortly. A 16 A version of the device socket with up to 4 light pipes will be launched in the near future as well.
Technical Data / Approvals
* Ratings IEC 10 A / 250 VAC; 50 Hz
* Ratings UL/CSA 15 A / 250 VAC; 60 Hz
* With one, two or without integrated light pipes for status display
* Compatible for V-Lock cord retention and other systems with side latches
* Operation temperature -25 °C bis 70 °C
* Snap-in mounting and PCB terminals
Application
Typical applications are in smart Power Distribution Units (PDU) used in Data Centers, IT- & Telecom systems, where the power or other status indication per each outlet is monitored.