SMD Fuse for Electromobility Applications
* Extended rated current range with 15 A
* Ideal for electromobility applications
* Cycle resistant with quick characteristics
* Halogen-free and RoHS-compliant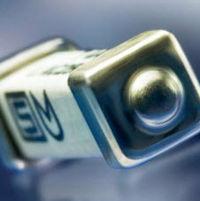 The proven UMF 250 SMD fuse family gets extended by a 15 A version. SCHURTER is now offering the UMF 250 in a total of 15 rated currents between 500 mA and 15 A. It is particularly suitable for electromobility applications with higher rated currents.
With its quick characteristics (small melting integral) according to IEC 60127-4, the UMF 250 is the logical addition to the successful UMT 250 range. It is sealed against potting compound to achieve a hermetic seal for use in intrinsically safe applications according to ATEX and IECEx requirements. Thanks to its high cycle stability and minimal temperature derating, it is extremely robust and aging resistant.
Applications
Thanks to its low internal resistance, the UMF 250 is ideally suited for primary and secondary protection on SMD circuit boards. Applications of the UMF 250 include the protection of battery-powered systems with high switch-off capacities of 500 A @ 125 VDC (e.g. electromobility). The fuse is also suitable for primary protection in the AC range, for example in voltage regulator modules and charging stations.
For Lead-Free Soldering Processes
The UMF 250 is a halogen-free and RoHS-compliant fuse for lead-free soldering processes. The solder surface compatibility with the most important competitor products allows Schurter to offer the UMF 250 as a replacement product. The fuse is cURus approved. Available in 100 pcs plastic bag or 2000 pcs tape and reel packaging.
Enquiry Form: http://www.epreston.co.uk/contact/
Home Page: http://www.epreston.co.uk/epblog/