Single Phase Block Filter, Protection Class II
* Protection class II without ground wire
* Filter with standard or high performance attenuation
* Excellent symmetrical attenuation
* Fully closed steel housing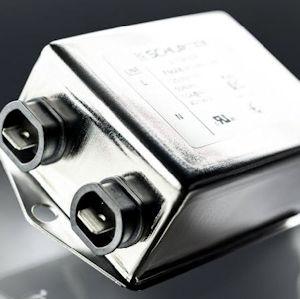 Schurter expands the proven FMAB NEO single-phase filter family with new variants for protection class II applications. The new filter series without protective ground connection is available as a medical M5 version for a rated current range from 1 A to 20 A with plug-in terminals.
Protection class II, also known as protective insulation, means protection by double or reinforced insulation. All clearances and creepage distances must be doubled, and inside the filter double or reinforced insulation is mandatory. The new FMAB NEO filter series Protection Class II meets all these requirements: reinforced insulation inside the filter and the plug-in terminals have a large plastic collar. The filters are tested with 4 kVAC between L or N against the metal housing.
Applications
Protection class II applications do not have a protective ground wire. To ensure effective personal protection even without a protective ground conductor, protection class II devices feature additional insulation. Typical applications include power tools, audio and video equipment and many medical devices. Protection class II is even mandatory for a variety of medical applications. For example, medical devices for use at home must be of protection class II according to IEC 60601-1-11.
Approvals
The single-stage FMAB NEO filter family has a particularly compact design combined with high performance. It is suitable for applications in the temperature range from -40 °C to 100 °C and has ENEC and cURus approvals.
Enquiry Form: http://www.epreston.co.uk/contact/
Home Page: http://www.epreston.co.uk/epblog/