As parents, we teach our kids constantly: How to ask politely for something rather than whining like an injured screech-owl. That it's actually not okay to stick crayons/beads/sequins up your nose. That if you finger paint your body in nail polish, Mommy might lose her mind.
Every moment can be a teaching moment. And in rare instances, the tables turn, and we find ourselves the pupil under the instruction of brutally honest and unbiased teachers. I had three of those moments in the past week, where my kids stop me dead in my tracks and make me realize that I still have a lot to learn. I wrote them all out and then realized it was less like a blog post and more like reading War and Peace. So to save your sanity, I'm breaking it up into a mini series. You're welcome.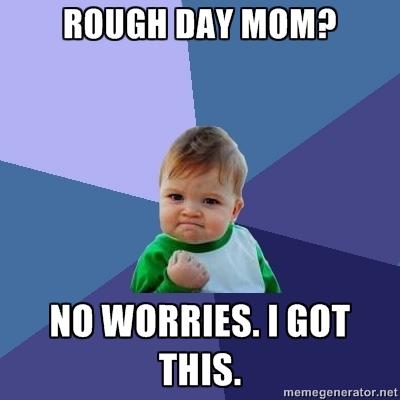 Image created on memegenerator.net.
Scenario One: Ba Humbug.
Saturday, I was having a particularly frustrating day. The Nerd has been working insane hours. Think going to bed between 3 and 4 AM every night. Those extra hours don't pay anything right now. And I was having a hard time watching him literally exhaust himself for, well, nothing, at the moment. We're hoping that it will pay off in the future. So he continues to exhaust himself. And I continue to hate watching him do that for us. And I was having a moment and being quite resentful of our lack of income. Just keepin' it real. I was in an ugly place. Enter Punkin.
Punkin: Mommy, why do people rush out to buy more things the day after we are supposed to be thankful for everything we have?
Cue crushing blow to my pride. I'm huffing and puffing around the kitchen because people have been bombarding me with conversations and pictures of their awesome new [insert expensive thing here], and I feel helpless watching the Nerd work himself into oblivion while our situation just doesn't change. And in walks Punkin to remind me that I am so unbelievably blessed. My children are healthy. My husband is healthy. And I'm pretty much good with that. She totally put me in my place without even knowing it.
Schooled by my eight year old. Totally had it coming.