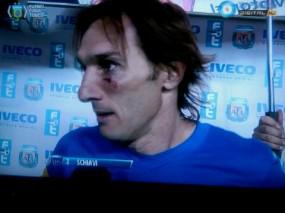 Rolando Schiavi's face was essential symbolism. The scars on his face were the symbol of a struggle that the team had balance and worked hard to obtain everything they earned in a match that was one of the most important as they look to rectify their last few seasons' performances. They took a huge step towards doing so with a huge 1-0 win against Independiente at the Estadio Libertadores de América.
Schiavi's face symbolized the hard work it took for his to score the only goal of the match.
Schiavi's face also symbolized the time that it took the club to adjust and the lumps that they took in the process dating back to the last tournament.
But more importantly, Boca are starting to perform at a consistent level so far in the Apertura.
Boca seems to have understood what Julio César Falcioni was looking to sell to his squad. Boca showed their old toughness, but also there was a great deal of wastefulness that could have made the eventual 1-0 win a little more comfortable. Lucas Viatri as well as a host of others were victims of the best player on the pitch for the Avellaneda giants- goalkeeper Fabián Assmann. if it wasn't him it was the desperation that was in some of then defending, especially in the case of Julián Velasquez.
Continue reading on Examiner.com Boca Juniors win "Clásico" in Avellaneda