I was looking forward to Busan: to seeing this coastal city and to bugging my three Busan friends whom I haven't seen in over a year. I didn't have any itinerary for my two days in Busan—my plan was to plan around their schedule. Kinda left it to them to take the wheel.
And they took the wheel literally. Around 10AM, SangCheol drove up to the hostel, with Yong riding shotgun acting as guide. My friend and I jumped in (yes, we had to jump in; it was a no stopping zone) and we were on the way. These guys are not morning persons which clearly showed in SangCheol's half–closed eyes and in Yong's snores as we crossed a bridge and cruised along roads and highways for about 45 minutes to Taejongdae.
Taejongdae
24, Jeonmang-ro, Yeongdo-gu, Busan+82 (51) 405 2004
Directions to Taejongdae
Take subway line 1 to Nampo Station, exit 6. Take Bus 8, 30, 66, or 88 and get off at the last stop (Taejongdae Chagoji).
Take subway line 1 to Busan Station, exit 7. Take Bus 66, 88, or 101 and get off at the last stop (Taejongdae Chagoji).
Taejongdae is a huge park. You either walk around or shell out KRW2000 for a tram ticket. The uphill walk to the ticket booth was already too much for sleep–deprived SangCheol that he took the liberty to buy us all tram tickets.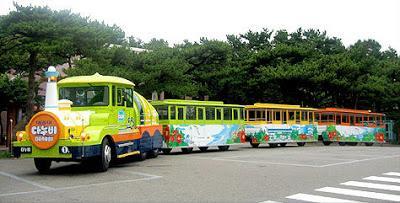 The tram in Taejongdae is called DanubiPhoto from maifate.wordpress.com
The tram makes five stops along its route: Taewon Jagal Madang, Gumyeongsa Temple, Observatory, Yeongdo Lighthouse, and Taejongsa Temple. I have no idea what Taewon Jagal Madang is or how the temples look; we only went to Yeongdo Lighthouse and the Observatory.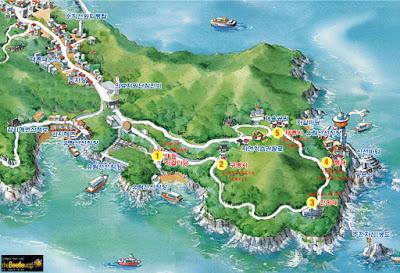 Map of Taejongdae (click to enlarge)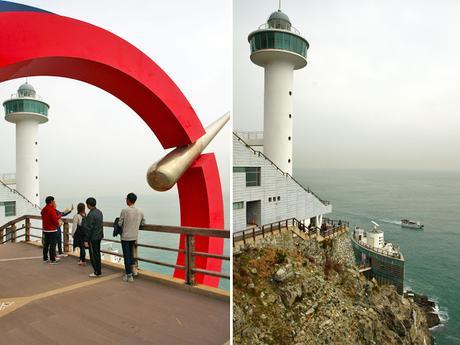 Yeongdo Lighthouse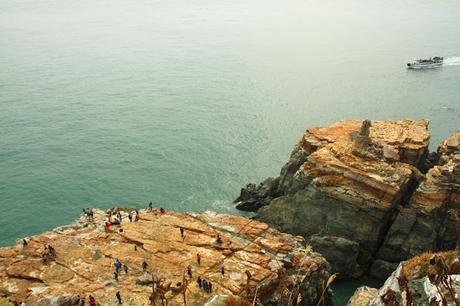 The rock below the boardwalk near the lighthouse
Taejongdae is a refreshing park to spend the whole day hiking around, gulping in fresh air (and, if you're hiking, gulping gallons of water), taking in the views, and catching up with friends. We tramped around the boardwalk, checked out sculptures, and tinkered with a digital map of Busan's attractions that we found on one of the viewdecks. Back at the boardwalk, we took in the view of the fog and the sea (on a clear day, Japan's Tsushima Island can be seen from the Observatory) and the rock formations below. People were down on the rock fishing and some were just hanging around. There was a trail down to the rocks but I didn't subject SangCheol and Yong to a hike down—they still had a whole day of driving and guiding to do.
By noon, we drove back to Nampo for lunch, went in and out of stores around Nampo, went to Gamcheon Culture Village for more walks, and then before the day ended, SangCheol and Yong drove us to another scenic site: Oryukdo Islands.
We did not got to the islands itself, but viewed the islands from Oryukdo Skywalk.
Oryukdo Skywalk
137 Oryukdo–ro, Nam–gu, Busan9AM to 6PM, weather permittingClosed during Lunar New Year and Korean
Thanksgiving
Day
Directions to Oryukdo Skywalk
Take subway line 1 to Busan Station, exit 10. Take bus 27 and get off at Oryukdo SK View Humun (Backgate) Bus Stop (25 stops). Walk about 275 m to Oryukdo Skywalk.
From Gamcheon Culture Village, it took an hour and two bridge crossings to get to Oryukdo Skywalk. Once we found a parking slot some 300 meters from the skywalk, SangCheol herded us to the skywalk where we had to wear cloth covers over our shoes before stepping on its glass floor.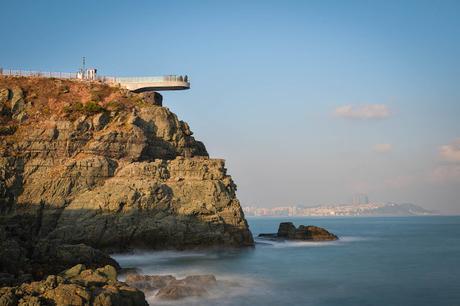 Oryukdo Skywalk sitting above the rock cliffPhoto from koreabridge.net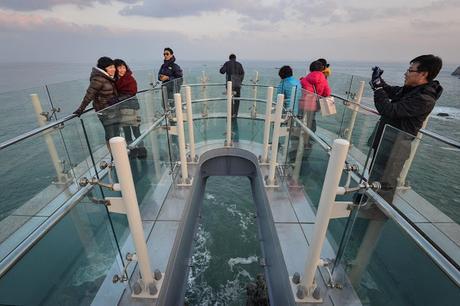 Oryukdo SkywalkPhoto from koreabridge.net
The skywalk is built overhanging some 35 meters above the sea on a rock cliff. It affords a view of Oryukdo Islands, a group of five (오 
o
 in Korean) islands called such because at high tide it looks like six (육 
yuk
 in Korean) islands. One of the islands (Usakdo Island) when partly submerged during high tide leaves its two peaks above the sea, making it look like it's two separate islands.
(The five or six islands of Oryukdo can also be seen up close via a cruise. The boat leaves Mipo Ferry Terminal in Haeundae every 40 minutes on weekends or every hour on weekdays, and the cruise will run for a little more than an hour. A cruise ticket would cost around KRW 22,000 or about Php 900.)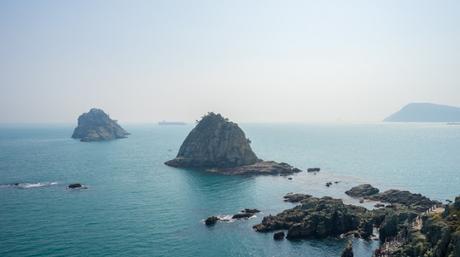 Oryukdo Islands as seen from the skywalkPhoto from evanandrachel.com
Oryukdo IslandsPhoto from Namgu Cultural Tourism
We shuffled over the glass skywalk, tried to count the islands (in vain; it was too foggy and I could barely see the lighthouse on the farthest island peeking over the other three islands, which looked like one island from that angle), hurriedly clicked our cameras, took two lungfuls of air, and then it as over. We had to get in and out of there in a flash as there was a long line behind us. (Here's a
video of the skywalk
and how busy it could get.)
Near Oryukdo Skywalk is Igidae Park, where one can enjoy more views of Busan via the 5–kilometer Coastal Walk. I like walking in parks especially on cool days but we skipped it lest SangCheol and Yong blame me for making them work like a horse on their rest day. Walk or no walk at Igidae Park, SangCheol still blamed me the next day when both his legs were aching from all the walking we did in Taejongdae, Nampo, and Gamcheon.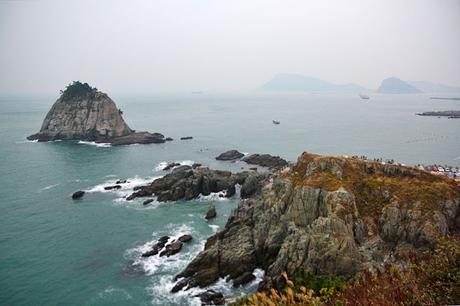 Usakdo Island (left)
After the trip, while researching about the places I visited in South Korea, I stumbled upon the Cultural Heritage Administration of Korea website. I found out that South Korea has seven heritage classifications, and one of them is the "scenic site." Scenic sites are "places of natural beauty with great historic, artistic or scenic values, which feature distinctive uniqueness and rarity originated from their formation processes." The country has more than a hundred "scenic sites," and only two of these are in Busan: Taejongdae (Scenic Site 17) and Oryukdo (Scenic Site 24). Whether SangCheol and Yong knew about this or not, I was lucky to have been brought to see these places.
South Korea Quickie 2014
Wisdom from the Road #22
Seoul: 
Lessons From My Seoul Airbnb Experience
Seoul: Gwangjang Market
Seoul: Namsan: Park, Tower, and Village
Gyeongju: Bulguksa Temple and Seokguram Grotto
Busan: Mr Egg Hostel (Nampo)
Busan: Scenic Sites of Busan: Taejongdae and Oryukdo (you're here!)
(more soon)