Jewish Actress Scarlett Johansson has come under fire recently from supporters of the BDS movement - for contracting to advertise for an Israeli company in the upcoming Super Bowl.
The advertisement she will act in is for the Israeli company SodaStream. Soda Stream has factories in the West Bank and is therefore a regular target for the boycotters. The irony of the Soda Stream boycott has always been that Soda Stream employs hundreds of Palestinian Arabs in their factories and pay them decent wages - equivalent to those of the Jewish employees. Soda Stream treats them well - they get better employment conditions working for Soda Stream than they do working for Palestinian companies.
Soda Stream should really be supported by these people, but they promote a boycott, in essence attempting to harm the Palestinians who benefit from their factory.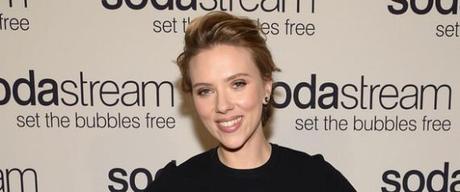 So Scarlett Johansson has agreed to advertise for Soda Stream in the greatest venue of television - the Super Bowl. She has therefore drawn the ire of the boycotters to target her.
After a week or so of incessant attacks on Johansson. she has finally spoken up in response.
From The Huffington Post:
While I never intended on being the face of any social or political movement, distinction, separation or stance as part of my affiliation with SodaStream, given the amount of noise surrounding that decision, I'd like to clear the air.

I remain a supporter of economic cooperation and social interaction between a democratic Israel and Palestine. SodaStream is a company that is not only committed to the environment but to building a bridge to peace between Israel and Palestine, supporting neighbors working alongside each other, receiving equal pay, equal benefits and equal rights. That is what is happening in their Ma'ale Adumim factory every working day. As part of my efforts as an Ambassador for Oxfam, I have witnessed first-hand that progress is made when communities join together and work alongside one another and feel proud of the outcome of that work in the quality of their product and work environment, in the pay they bring home to their families and in the benefits they equally receive.
I believe in conscious consumerism and transparency and I trust that the consumer will make their own educated choice that is right for them. I stand behind the SodaStream product and am proud of the work that I have accomplished at Oxfam as an Ambassador for over 8 years. Even though it is a side effect of representing SodaStream, I am happy that light is being shed on this issue in hopes that a greater number of voices will contribute to the conversation of a peaceful two state solution in the near future.
good job, Scarlett, and stand strong. You are doing a good thing.
If you aren't using SodaStream for the health and financial benefits, you should consider supporting SodaStream to oppose the boycott efforts..