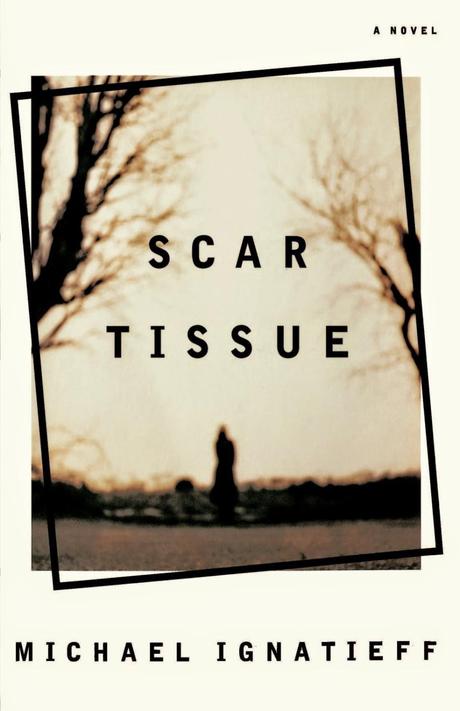 Published January 1, 1993
In 1993 Canadian author and politician Michael Ignatieff published a novel about a family's response to early onset dementia.
 Scar Tissue
was short listed for the Booker prize the following year.
Armed with this information, I decided to track down a copy of the book.  The narrator is one of two siblings adjusting to their mother's increased confusion.  The family also includes their father, a soil scientist and an immigrant from
Russia
. The mother is a painter.
The two brothers take different approaches to their mother's illness as influenced by their vocations.
The narrator is a philosopher. He saturates himself in the images, emotions and theories. He mulls over the way dementia alters self, relationships and the ability to cast one's own life into a narrative.  He's on a never-ending quest for meaning.
His brother takes a more pragmatic approach by trying to identify the disease as it alters the material landscape of the brain.
Supporting characters include the narrator's wife and children, the mother's caregiver, Miranda, and a Moe, a research subject working with the narrator's brother.  These characters, however, are shadowy figures compared to the four members of the narrator's family of origin.
The narrator's pain is palpable throughout the novel.   Ignatieff's own mother died from complications due to Alzheimer's a year after the novel was published. However, it was Ignatieff's brother, Andrew, who did the hands-on caregiving with Ignatieff coming into town for visits just a couple of times a year.
Even though the book was published over twenty years ago, I find the narrator's meditations interesting and the family drama informative.  
Scar Tissue
conveys the hardships, the altered memories, the agonizing self-scrutiny, and the shifting relationships that often occur when dementia becomes a way of life for a family member.
For a more thorough analysis of the novel, see Amelia DeFalco's
scholarly essay
.
Related:
Movies Depicting Alzhiemer's Disease