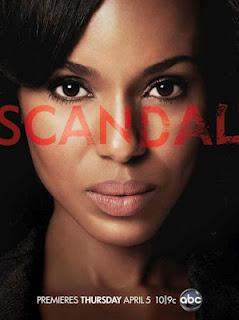 Scandal - the new series from legendary and world renown TV Series creator, the one and only Shonda Rhimes.
And so Shonda Rhimes strikes again with a new hit TV series, this time set in Washington DC, the place where the scandal feels at home and ready to jump on you at every corner.
The series introduces us to a life-based character Olivia Pope who is a goddess when it comes to making a scandal vanish into the fin air, she is the one you wanna keep on your speed dial just in case your life starts to spiral out of control.
I fell in love instantly with Kerry Washington's character, Olivia Pope is perfect at managing crises only because of her imperfections. Through the entire episode she proves that only screwed up people like them can make a change for the better, only they can protect us, our lives and our reputation.
The episode opens up with Harrison Wright offering a job to Quinn Perkins, personally asked by Olivia and in Quinn's first day she witnesses Olivia's involvement in case where the image of the first and most powerful man on earth, the President of the United States is at stakes.
Olivia used to be communications director for the White House but has left only to start her own crises management firm. There appears to be a woman who claims to have an affair with the President and wants to make it public but before doing that Olivia explained how her life would change if that was to happen. Well, I've never heard a woman talk so intelligently,  on the subject, with a threatening tone yet delicately, fast but slow enough to be understood. It was one of the most best written and interpreted speeches I have ever heard on television. And Kerry Washington proved she was a perfect fit for the leading lady in the series.
The woman that was about to ruin her life and cost presidential chair for the most powerful man on the planet was not the only case on hand.
Olivia had all the necessary assets to prove that a decorated war veteran was innocent of murder. A case that at first seemed easy for Olivia to solve but the man in question, Sullivan has a secret that stands in his way to freedom.
After seeing how Olivia ripped that woman a new one about how her life would significantly change if she comes forward Quinn has a meltdown, she doesn't worthy enough to be a part of Olivia's firm but later finds out that all her imperfections makes her compatible with what Olivia believes in. At the firm everybody has a story, everybody needs fixing and they seem to take care off not only of each other, but also of others.
We also learned that Olivia is never wrong, due to her gut, her intuition and I can tell, intuition is the perfect sixth sense especially in her job. When the President swore he never had an affair with his aid I knew that Olivia ignored her gut but I never suspected she had a personal share in all this.
She is tough as nails, but she's soft and fussy too. She is all you need her to be.
I loved it, it had Grey's Anatomy suspense signature written all over it. Perfect. Simply amazing.
Next week on Scandal ...
Well, I for one, I am hooked and looking forward for next week.
Thank you for reading and hope you come back for more of my reviews.
Until then, did you like the new series from TV goddess Shonda Rhimes ? Is it compelling enough for you to stick to it until the end of the first season ? What are your thoughts ?
<a href="http://polldaddy.com/poll/6114314/">Rate this episode.</a>
Make sure to check back later for ratings.
Cheers.