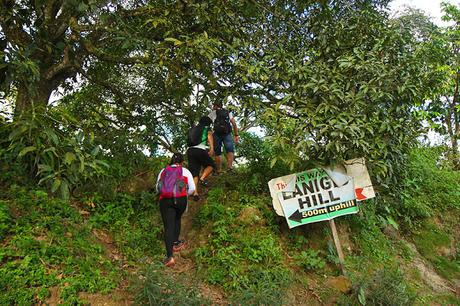 In the beginning
"We've been scammed!" my friend laughingly exclaimed.
This as we trudged up an incline just five minutes into our hike. We had expected an easy trail with gentle slopes; a walk in the park. An officemate who had hiked Lanigid Hill in Brgy. Mulao in Liloan just a week before said it was, in one word, easy. But this...this was not easy. This was a workout.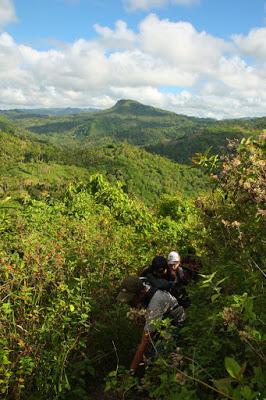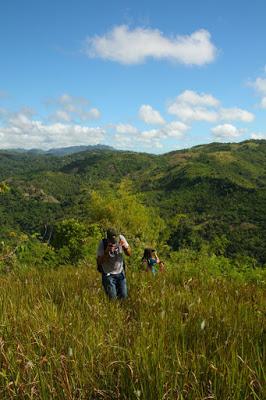 "This? This is (Difficulty) Level 1? This is not Level 1!
Lahi siguro ilang Level 1 sa atong Level 1!
"
This coming from a bunch of people who enjoyed hiking...only on flat ground. After taking a wrong turn and ending up on a slippery slope 15 minutes into the hike, we traced our way back to the three–pronged fork in the path and picked another route. After more complaints (all in jest), we finally reached the sun–scorched hilltop (mountaintop!) and forgot all about the giant beads of sweat, inclines, and scratchy plants.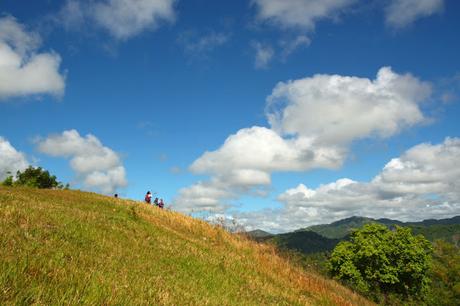 Sun–scorched
We breathed in the fresh air, the view of the surrounding mountains, the blue sky. We breathed it all in. (Of course we had to, we were all gasping for breath after that 40–minute hike.) And then we settled down under the only tree that could provide shade for all seven of us.


The surrounding mountains
We picnicked. And were thankful for the girl scout who brought along some snacks for the group. (None of us thought to bring food because we had expected it to be a very easy walk.)
We laughed. And were thankful for the entertainer who supplied all the complaints during that hike and continued on complaining as we were taking respite under the tree.
We rested. And were thankful for the leader, well, for leading us to the wrong way then to the right way (we were all first timers to Lanigid Hill, including our leader).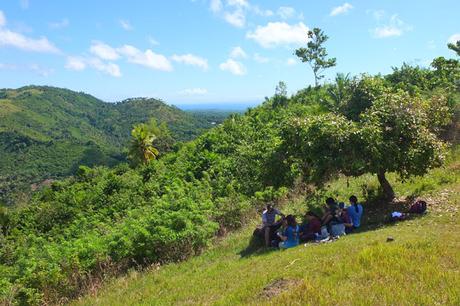 Picnicked, laughed, and rested under the tree. (Photo by A Sanchez)
Picnicked. Laughed. Rested. For an hour and a half and then it was time to go. From where we were sitting under the tree, we could see another path, but we chose to go the same way we came. It took us one backtrack (we got a little lost again) and just 15 minutes to get back down to our starting point. And this was without rolling down the hill. In hindsight, it wasn't so bad. Maybe there really is an easy trail and we just took a wrong turn somewhere. Or maybe we just really need to exercise. Yes, I think we just need to exercise.
How this scam bore a tiny hole in Mustachio's pocket:
Jeep from Jollibee Mandaue Highway to Liloan and back Php 28
Habalhabal (motorcycle) to Brgy Mulao and back Php 100 (Php 50/person/way)
Registration fee for Lanigid Hill Php 10