How to say even more with flowers…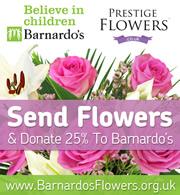 You may be ready to make that romantic gesture, say thank you to a friend – or just wish to send some flowers for any other reason. Flowers always mean something, and sending them is an emotional or personal gesture.
Now it can mean even more. Since 1867, Barnardo's have believed in children – in helping, and campaigning for, some of the most vulnerable in our country (over 200,000 last year alone), and here at Prestige Flowers, we feel the same and want to help.
So, together, we have introduced the new range of Barnardo's Flowers where, for every purchase, 25% of the price is donated directly to the charity.
Whenever you send flowers (order before 4pm for next-day UK delivery) – whether to celebrate a birthday, anniversary, or new arrival – you'll also help better the lives of children. Even when sending a get well wish, or extending sympathy in sad times, you've helped.
For beautiful bouquets and arrangements, such as the popular Rose and Lily Treat, for under £30, only the freshest blooms – brought daily from Holland – are chosen. And all backed-up by terrific, friendly, service and their "100% satisfaction-guaranteed" policy.
To choose your flowers, visit www.BarnardosFlowers.org.uk or call 0800 023 6234…